What's New > Apply for a special $100 bursary to attend Staging Sustainability 2014 People. Planet. Profit. Performance. to learn how the technical aspects of the performing arts can become more sustainable
Apply for a special $100 bursary to attend Staging Sustainability 2014 People. Planet. Profit. Performance. to learn how the technical aspects of the performing arts can become more sustainable
January 8, 2014
Staging Sustainability: Three downtown Toronto locations
Monday and Tuesday, February 3 – 4, 2014,
with pre-and post-conference activities happening on February 2 and 5
Apply for a special bursary for $100 registration (Early Bird is $250) or a FREE registration!
Wonderful news: for those who want to be a part of Staging Sustainability but just can't afford it. A private sponsor has stepped forward to subsidize bursaries for artists and small art organizations who could not otherwise afford to participate in Staging Sustainability. This sponsorship allows us to offer a limited number of registrations for $100 (the Early Bird price is $250) and one free registration. Please complete the brief application form to apply for a bursary and to put your name in for the draw for a free registration.
---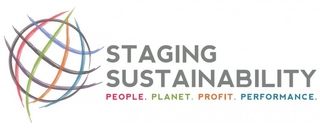 Performance has always been about how the work affects people. Now we are ready to tackle how our performances can promote a more sustainable world.
Staging Sustainability will be the largest gathering of performing arts and sustainability leaders in the world, bringing together practitioners from across Canada, Broadway, LA, the UK – and points in between.
Developed by peers with your needs and interests in mind, Staging Sustainability is your chance to be inspired by what the future might hold for the Canadian performance scene, to take up today's opportunities with the latest technology, and to learn from case studies of organizations like yours that have creatively addressed our shared challenges.
For artistic and technical leaders, it will be an unparalleled opportunity to network with peers, learn about the latest money-saving practices and initiatives for arts facilities, reinventing how we make and tech shows, the changing roles of designers and programmers, creating a sustainable audience experience, and integrating innovation into often aging systems.
Technical directors participating in Staging Sustainability will come away with ideas and best practices to address key questions including:
How do managers and production staff integrate sustainable practice into performance and events?
How is sustainable thinking changing the way we make and tech shows?
How do you get started with changing your work when you've got no money to work with?
How are facilities integrating sustainable practices into their operations?
A unique gathering of speakers who are a who's who of Canadian and international innovation and leadership in the performing arts:
Michael Mehler, scenery, lighting and sound designer and Co-chair, Broadway Green Alliance  
Harry Giles, Environment Officer for Festivals, Edinburgh, Scotland
Grant Heggie, Ready Set Recycle, Toronto
Click here to download a summary of the sessions.
TRADE SHOW – Live Performance Technologies – open late
Your chance to check out the latest around sustainability from manufacturers and distributors of live performance technologies and services.
WHAT'S IT ALL ABOUT
Staging Sustainability: Three downtown Toronto locations
Monday and Tuesday, February 3 – 4, 2014,
with pre-and post-conference activities happening on February 2 and 5
Programming includes plenary sessions, concurrent sessions and workshops
SmART Bar lets you personally connect with presenters
Pro-bono consulting sessions offer networking and customized learning opportunities
Exciting performances at The Theatre Centre illuminate sustainability
Two receptions with ample networking opportunities let you connect with peers, speakers, suppliers and consultants 
---
GO TO ALL NEWS →
GO TO RECENT FORUM POSTINGS →
GO TO RESOURCE HUB →