The CITT/ICTS Mentoring Network
---
In an effort to revive our Mentoring Network program, the Mentoring Committee held two Zoom presentations in May:
one focusing primarily on Mentors, and the other on Mentees.
Following these discussions, and after collecting as many feedback as possible, the Mentoring Network Committee will put in place the next steps in order to relaunch a program that meets the expectations of a majority of members. You will be kept informed of developments shortly.
Do you have any questions or comments for us about the program?
Please use the contact form below. Thank you for your interest !
---
About the Program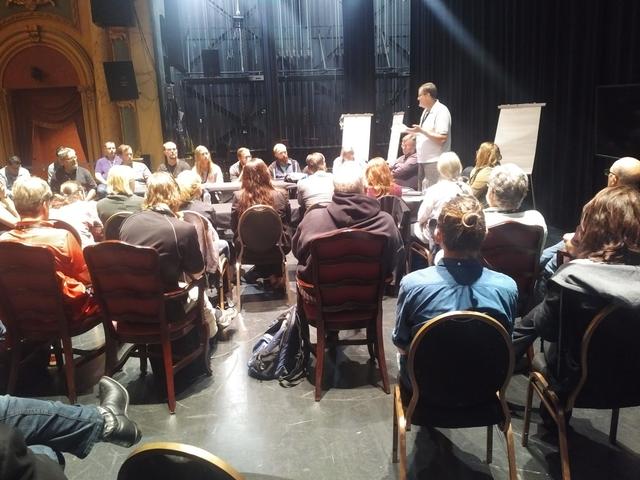 The late Robert Vernon moderating the Mentorship session at Rendez-vous 2017
Purpose
The purpose of the Mentoring Network is to connect members seeking peer support in developing, maintaining, and furthering a career in entertainment technology.  
Participants in the Mentoring Network shall read and abide by the provisions outlined in the CITT/ICTS Member Code of Conduct and Harassment policy. The Mentoring Network recognizes the right of all persons to participate without prejudice due to gender, age, race, creed, or sexual orientation.
FAQ
1- How does the Mentoring Network work?
The CITT/ICTS Mentoring Network is a tool for our members to help facilitate them finding people with similar interests who wish to connect and learn from each other.  Although it does not provide a matchmaking service, we hope that it gives a better framework to allows our membership to make one on one connections with each other more easily. 
2- Who can be a Mentor or Mentee?
Any member of CITT/ICTS can become a Mentor or Mentee.  It is as simple as choosing the desired box in your membership profile. 
3- How do I sign up as a Mentor or Mentee?
If you are interested in becoming a Mentor or Mentee, please start by reviewing your profile in the Members Area of the CITT/ICTS website.  Please make sure that you provide some means of contact, your city and your preferred language as part of your profile. In the Mentoring Network section, fill in the box that asks whether you would like to be a Mentor or Mentee (or both) and indicate which disciplines you are interested in.
4- How do I find other Mentors and Mentees?
Once your profile is updated, navigate to the Mentoring Network directory page in the Members Area. You will see a list of people in the organization who are also interested in participating in this program. Feel free to reach out to anyone who shares your interests or that you think you would like to connect with.
5-I'm interested in becoming a Mentor, but I'm not sure what is expected of me?
How the relationship between a Mentor and Mentee develops is as different as the people involved.  As members of CITT/ICTS, it is expected that both the Mentor and Mentee will behave according to the  Member Code of Conduct and Harassment policy, but other than that we invite you to set your own boundaries and expectations with each other. 
6- What are the best practices to be a Mentor?
More resources to help give you some ideas on best practices will be added soon. 
7- Will I be compensated for my time as a Mentor?
No, mentoring is done voluntarily and free of charge. It is about giving back. Also, the relationship is a two-way street and should be beneficial for both parties.
---
Contact Us
If you have any questions, concerns or feedback about the program, please fill out the contact sheet below. Thank you!
---
⇒ SIGN UP AS A MENTOR or MENTEE (Click on "Update Profile" button)
⇒ VIEW THE MENTOR/MENTEE DIRECTORY (CITT/ICTS Members only)
⇒ SIGN UP AS A CITT/ICTS MEMBER  (To access the Mentoring Network)