EXHIBITOR INFORMATION
EXPO-SCÈNE 2023 | April 13 - 14, 2023
SHOW OPENING HOURS
Thursday April 13 from 10:00 a.m. to 5:00 p.m.
Friday April 14 from 10:00 a.m. to 4:00 p.m.

Palais des congrès de Montréal
Room 220 de
Main entrance: 1001 Place Jean-Paul-Riopelle
Loading and unloading dock: 163 Saint-Antoine Street West
Metro station: Place d'Armes (
click here
 for the Montreal Métro Map)
---
BOOK YOUR SPACE FOR THE 2023 EDITION!
* REGULAR RATE DEADLINE: MARCH 31, 2023 *
To  or if you have about exhibiting at EXPO-SCÈNE, please contact us directly:
by email or by phone at 514 504-9998 | Toll free (within Canada) 1 888 271-3383

Mark your calendars! EXPO-SCÈNE 2024 → April 10 - 11, 2024
Please take a moment to read our Refund and Cancellation Policy.

---
2023 Booth Space Rates
Did you know? CITT/ICTS Members benefit from our lowest rates! Click on the image below to view and compare. If you would like to learn more about CITT/ICTS, click here. Ready to join? Click here.
Click on the image to view and download in pdf.
Please note that the deadline for the regular rate is March 31, 2023!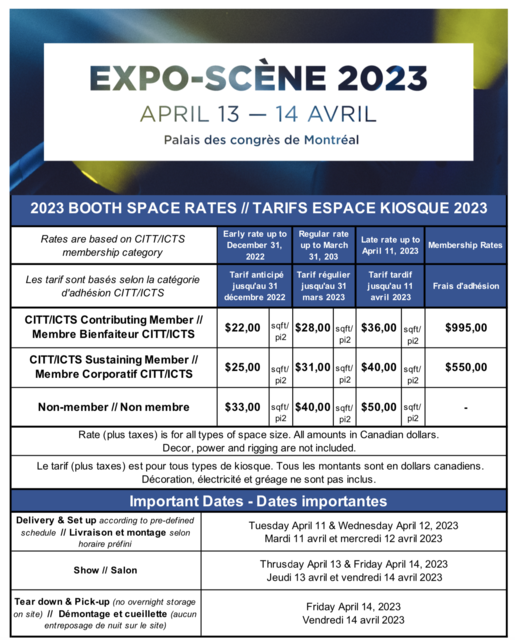 CLICK HERE to view the most recent version of the floor plan.
FOR QUESTIONS PLEASE CONTACT EXPO-SCÈNE'S TECHNICAL DIRECTOR:
Joel Decarie
T. 514 969-8436 | Email
Electricity is not included with the booth and must be ordered via the Palais des congrès
Complimentary Wi-Fi will be provided throughout the hall (1,5 Mv/s). Faster or wired connections must be ordered with the Palais.
Overhead rigging for your booth must also be ordered via the Palais des congrès. **For rigging over 50 lbs please contact their technical advisor assigned to EXPO-SCÈNE 2023 via email.
ALL ORDERS must be placed online using their Client Portal. You will be asked to enter your booth number.
The deadline for the discounted price is: MARCH 27, 2023
VIEW THE 2022-23 PRICE LIST for Service, Labour and Equipment Rates at the Palais des congrès de Montréal
All orders must be placed using the GES / EXPO-SCÈNE 2023 Expresso Online Portal. From there you can view their catalog, prices and order forms for decor, advanced shipment, advanced and showsite material handling.
To receive the advance order discount rates listed on the price sheet' GES must receive your order and payment by: MARCH 29, 2023.
Please note that the exhibit hall is NOT carpeted.
Please note that the exhibit hall general lighting will be dimmed at 33%.
Go to the GES Expresso Portal →
---
Visitor Data - QR code reading (Lead Retrieval)
CITT/ICTS offers you the possibility to rent a license to access the QR code reader web application for the duration of the show, from INSCRIPT, our official supplier. Using your cell phone and the web application, you will be able to collect information from your booth visitors, qualify them and specify their interests in just a few clicks.
Rent your license online now or on-site at the registration desk.
Rate: 100.00$ CAN (+ taxes), payment by VISA and MasterCard accepted.
All your booth staff must be registered.
In order to register staff members, you will need your personal Exhibitor ACCESS CODE. This code will be included in the Welcome to EXPO-SCÈNE 2023 Information email that is sent out to all exhibitors. Contact us if you didn't receive it.
Important: Each staff member should wear his or her own badge during the entirety of the show, to help identify them to visitors.
Get your exhibitor badge at the EXPO-SCÈNE 2023 registration desk:
Wednesday, April 12 from 3:00 p.m. to 5:00 p.m.
Thursday, April 13 and Friday, April 14 starting at 8:00 a.m.
---
International Exhibitors
International exhibitors need a Border to Show recognition letter delivered by the Canada Border Services Agency. This letter is provided by EXPO-SCÈNE and will be included in the Welcome to EXPO-SCÈNE 2023 Information email that your will receive from EXPO-SCÈNE once everything is confirmed and in order.
If the letter attached to your exhibitor information email, please contact us by email.
---
COVID-19 Information
There are no measures currently in force in the province of Quebec.
Sanitary measures are subject to adjustments according to the instructions of the Public Health in force at the time of your visit. For up-to-date information about the situation in Quebec, .
COVID-19 Travel Restrictions for Canada:
Please visit the Government of Canada COVID-19: Travel, testing and borders.
---
EXPO-SCÈNE 2023 Media Kit
Promote your presence at the show!
Media Kit Contents:
EXPO-SCÈNE Logo: Black | White | Big Box image (250x300)
Email: Promo thumbnail
Social Media: Banner with dark space to add your logos and text (EN) | Banner with space to add your booth number (EN + Bilingual) | Promo Banner (Bilingual)
 Please contact us if you have difficulty to access the kit or can't download the elements.
---
THANK YOU TO EXPO-SCÈNE 2023 SPONSORS!
COMPLIMENTARY WI-FI THROUGHOUT THE HALL IS PROVIDED BY