CITT/ICTS Alberta Section
Board of Directors 2019
Chair Person – Kevin Humphrey (Edmonton)
Vice Chair North – Eugene Carnegie (Fort McMurray)
Vice Chair South – Michael Takats (Lethbridge)
Treasurer – Norah Seed (Fort Saskatchewan)
Secretary –  Sean McIlveen (Edmonton) 
Directors at Large 

Roy Jackson (Edmonton)
Chris Kavanagh (Edmonton)
Trevor McDonald (Calgary)
Murray Palmer (Banff) 
Sherry Waddle (Spruce Grove)

Student Director at Large (1-year term) – vacant
---
Upcoming Events (Subject to change or additions)
None at the moment. Come back later or sign up as a CITT/ICTS member to stay informed.
Additional information about upcoming events is available on the Alberta Section website.
---
Past Events
ALBERTA SECTION - 3 DAYS OF ETC ION/GIO/EOS FAMILY CONSOLE TRAINING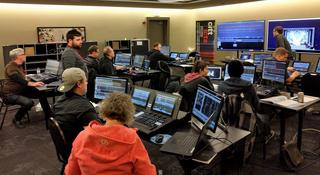 CITT Alberta is holding 3 days of ETC Console Training at the Jubilee Auditorium in Calgary on March 1, 2 & 4, 2020. Join us in the lead up to the annual Backstage Access Production Expo. These courses will be taught by an ETC-certified professional trainer from Los Angeles.
For all the informations and to register, please click here.
---
 Resources, Documents and Links of Interest 
Theatre Alberta is a Provincial Arts Service Organization (PASO) committed to encouraging the growth of theatre in Alberta. We offer a wide range of programs and services to drama students, professional theatre artists, educators, and enthusiasts, as well as to schools, post-secondary institutions, and community and professional theatres.
---
Contact information
Email:
Website 
 

The CITT/ICTS Alberta Section is supported by
The Sections of CITT/ICTS are independently constituted entities and are wholly and solely responsible for the content of their page on the CITT/ICTS website.