GENERAL INFORMATION
THE GLOBAL SITUATION
INDUSTRY RESOURCES (↑)
Canada Council for the arts
COVID-19 Info Update page: This page is updated regularly. FAQ, documents and more.
If you cannot access an online version of this information and require a PDF, please email: covid19@canadacouncil.ca.
Employment and Social Development Canada
Coronavirus disease (COVID-19): https://www.canada.ca/en/employment-social-development/corporate/notices/coronavirus.html
The AFC
COVID-19 Update and resource page: https://afchelps.ca/news/covid-19-update/
UNISON
Financial support for the music industry: https://unisonfund.ca/services/financial-assistance
Actsafe
https://www.actsafe.ca/covid-19-resources-for-the-arts-and-entertainment-industries/
Event Safety Alliance
Program Changes in response to the COVID-19 Pandemic
Canadian Center for Occupational Health and Safety (CCOHS) Flu and Infectious Disease Outbreaks Business Continuity Plan
Plan how to continue operations when people are off due to infectious diseases.
UNESCO Culture & COVID-19 Impact and Response Tracker
To address the profound impact the COVID-19 pandemic will have on the culture sector, UNESCO has launched a weekly "Culture & COVID-19: Impact and Response Tracker" to provide an overview of the rapidly evolving situation. It explores both the immediate impact of the health crisis and examples of how countries around the world are adapting to the situation. This is one of several initiatives by the Organization to respond to the impact of the pandemic on the cultural sector worldwide.
World Health Organization (WHO)
Getting your workplace ready for COVID-19 (PDF document)
Tourism Montreal
News page - updated regularly.
Intuit Quickbooks - Your Taxes and Covid-19

IATSE
I Lost My Gig Canada
Impacts of COVID-19 on Canadian Artists and Independent Cultural Workers
ArtsPond / Étang d'Arts and I Lost My Gig Canada, in collaboration with national community partners, invite Canadian arts, culture, heritage, tourism, and creative industries workers to share their impact stories by completing the inaugural COVID-19 Impact Survey for Arts, Culture, Hertiage, Tourism & Creative Industries Workers.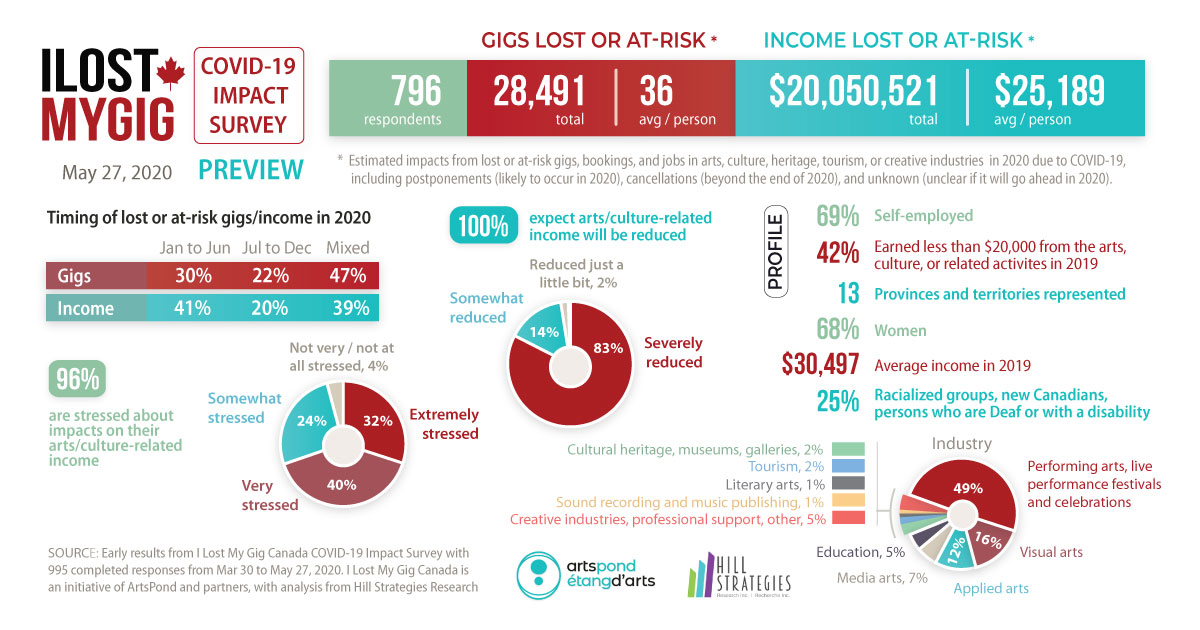 FINANCIAL RESOURCES (↑)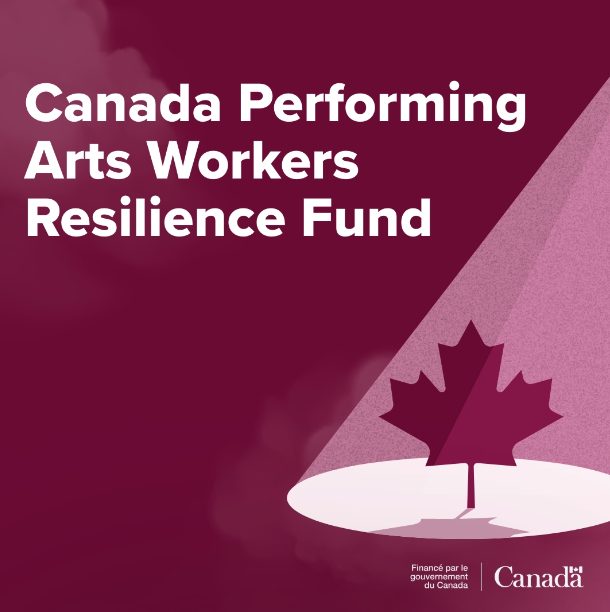 CANADA-WIDE | CPAWRF FUND - AUGUST 2022 UPDATE: The Government of Canada has announced that the following organizations have been identified to provide direct financial assistance to independent and self-employed workers in the live performance sector experiencing financial hardship and requiring emergency support:
All questions related to financial assistance are to be directed to the organization best representing the area of live performance sector associated with your work.
Note that projects relating to programs or services for workers in the live performance sector are currently under assessment.
→ The Live Music Workers Fund program (as part of the Canada Performing Arts Workers Resilience Fund) will provide financial relief to qualified independent and self-employed workers in the live music sector to support themselves and their families with basic living expenses - groceries, shelter (rent), and medical expenses. Successful applicants will receive a one-time payment of $2500 to be used towards the life necessities they deem most urgent.
All eligible applicants, no matter their occupation in the Canadian music industry, will be supported by Unison.
→ Live performance workers (other than music, outside Quebec): The AFC - the lifeline for Canada's entertainment industry has been selected as an organization that will deliver direct financial assistance to independent and self-employed workers in the live performance sector. More details to come, stay informed here: https://afchelps.ca/news/cpawrf-update/
→ The CDA continues to prepare to receive requests for this emergency funding. They are working to make sure the process is simple, quick, accessible, and secure and are planning to launch their application form within the next few weeks. Stay informed here: https://www.cda-acd.ca/resilience-fund-updates/
→ Applicants (All sectors and disciplines within Quebec) who reside in Quebec will apply for the funding via the Fondation des artistes du Québec: https://frtsssc.ca/en/support/
---
BY PROVINCE
Yukon
---
British Columbia
---
Alberta
---
Saskatchewan
---
Manitoba
---
Ontario
---
Quebec
Compétence Culture Comité sectoriel de main-d'oeuvre en culture (in French)
---
New Brunswick
---
Nova Scotia
---
Prince Edward Island
---
Take these steps to reduce exposure to the virus and protect your health:
Wash your hands thoroughly and regularly with soap and water for at least 20 seconds or use an alcohol-based hand sanitizer that contains at least 60% alcohol;
Wear a face mask when a safe physical distancing is not possible;
Sneeze and cough into your sleeve; when using tissues, immediately dispose of them and wash your hands afterwards;
Avoid touching your eyes, nose or mouth;
Refrain from handshakes/hugs;
Regularly clean commonly used surfaces and devices you touch or handle;
Try to avoid contact with people who are showing symptoms of respiratory illness, such as coughing;
Check national travel advice before planning or taking trips;
If you have a fever, cough and difficulty breathing, seek medical care early and share previous travel history with your health-care provider;
If you think you might be sick, stay home from work or school;
Practice physical distancing in accordance to your local regulations.