GENERAL INFORMATION
THE GLOBAL SITUATION
INDUSTRY RESOURCES (Up↑)
Government of Canada
Canada Emergency Response Benefit
Canada Council for the arts
COVID-19 Info Update page: This page is updated regularly. FAQ, documents and more.
If you cannot access an online version of this information and require a PDF, please email: covid19@canadacouncil.ca.
Employment and Social Development Canada
Coronavirus disease (COVID-19): https://www.canada.ca/en/employment-social-development/corporate/notices/coronavirus.html
The AFC
COVID-19 Update and resource page: https://afchelps.ca/news/covid-19-update/
Fondation des artistes
The Artists' Foundation (FDA) is currently working on the creation of an emergency fund to help the most needy artists affected by the COVID-19 crisis. Indeed, Netflix pledged last week to pay $ 500,000 to the FDA to support artists struggling with serious financial difficulties due to the coronavirus. As desired by the donor, this sum will be redistributed as a priority to artists in the French audiovisual sector. (in french)
UNISON
Financial support for the music industry: https://unisonfund.ca/covid-19-financial-assistance-resource-list
Actsafe
https://www.actsafe.ca/covid-19-resources-for-the-arts-and-entertainment-industries/
Event Safety Alliance
Program Changes in response to the COVID-19 Pandemic
Canadian Center for Occupational Health and Safety (CCOHS) Flu and Infectious Disease Outbreaks Business Continuity Plan
Plan how to continue operations when people are off due to infectious diseases.
UNESCO Culture & COVID-19 Impact and Response Tracker
To address the profound impact the COVID-19 pandemic will have on the culture sector, UNESCO has launched a weekly "Culture & COVID-19: Impact and Response Tracker" to provide an overview of the rapidly evolving situation. It explores both the immediate impact of the health crisis and examples of how countries around the world are adapting to the situation. This is one of several initiatives by the Organization to respond to the impact of the pandemic on the cultural sector worldwide.
World Health Organization
Getting your workplace ready for COVID-19 (PDF document)
Tourism Montreal News page - updated regularly.
---
I Lost My Gig Canada
Impacts of COVID-19 on Canadian Artists and Independent Cultural Workers
ArtsPond / Étang d'Arts and I Lost My Gig Canada, in collaboration with national community partners, invite Canadian arts, culture, heritage, tourism, and creative industries workers to share their impact stories by completing the inaugural COVID-19 Impact Survey for Arts, Culture, Hertiage, Tourism & Creative Industries Workers.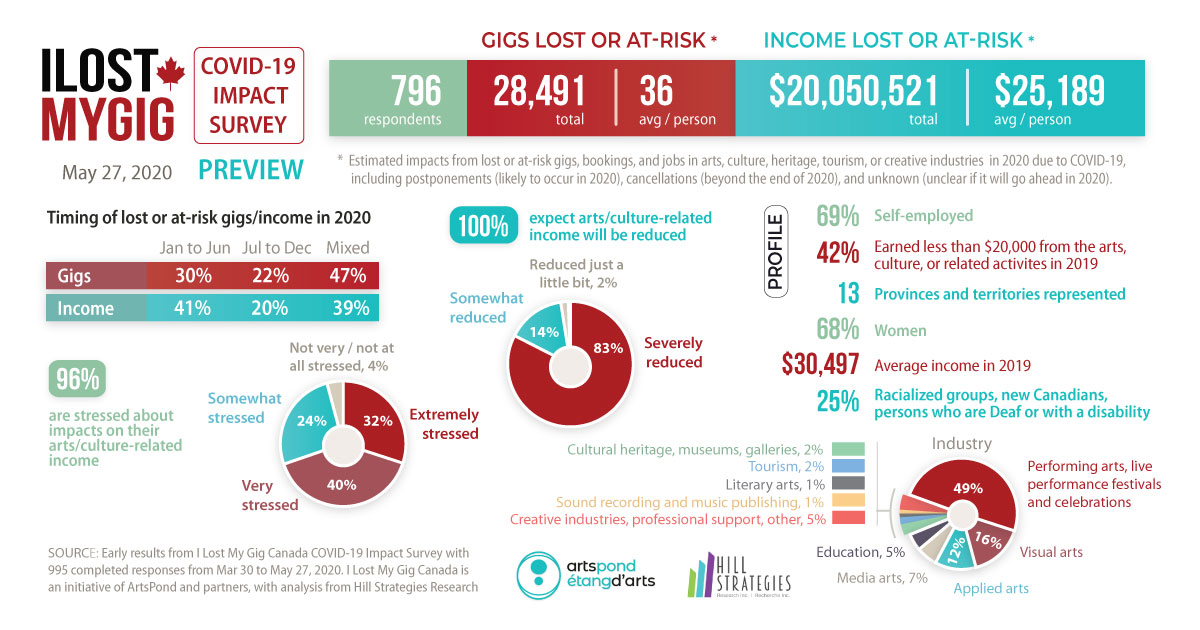 ---
IATSE
---
Quebec
CALQ, Conseil des arts et des lettres du Québec
Grants, news and updates, visit this page regularly.
Ministère de la Culture et des Communications du Québec
Avis aux clientèles du Ministère de la Culture et des Communications et de ses sociétés d'État (in french). Visit this page regularly for updated information. They also have a Q&A section.
Services Québec
COVID-19 Legal Aid Clinic - Free Legal Advice Telephone Line (web page in french)
Compétence Culture Comité sectoriel de main-d'oeuvre en culture (in french)
Fédération nationale des communications et de la culture (FNCC–CSN)
CERB extension: The necessary oxygen for culture and the media. (in french)
---
British-Columbia
Greater Vancouver Professional Theatre Alliance
COVID-19 Impact Survey
HEALTH & SAFETY (Up↑)
Wellness Together Canada: Get connected to mental health and substance use support, resources, and counselling with a mental health professional.
Mental Health Commission of Canada: tips to help Canadians protect their mental health as they strive to safeguard their physical well-being and that of their loved ones.
The Canadian Mental Health Association:
Your Mental Health. This section offers practical advice, articles and information to help you #GetReal about how you really feel.
2020 Toolkit. They've created web banners, communications tools and shareable images to help you connect – and #GetReal – for CMHA Mental Health Week.
Protecting Your Mental Health During the Coronavirus Outbreak: https://afsp.org/taking-care-of-your-mental-health-in-the-face-of-uncertainty/
:
Be Scene – Be Heard, an anonymous Peer-to-Peer Chat App for Entertainment industry professionals:
It can be hard to talk with family and friends about how you're feeling, especially now when you want to be strong for others because that's what you do – you're used to taking care of things. Sometimes it's easier to talk to people who don't know you, but who can relate because they're in this industry too. Maybe you're doing pretty well but you'd be willing to help someone else just by listening and offering a few words of experience.
That's why Behind the Scenes has partnered with iRel8 to launch Be Scene – Be Heard an anonymous peer-to-peer chat app just for our industry. Be Scene – Be Heard is available Wherever you are, Whenever you need it, for Whatever is on your mind.
→ Join now at https://irel8.org/behind-the-scenes-irel8-invite.
CALLTIME: Mental Health
An initiative by British Columbia's motion picture industry unions to assist workers and employers grappling with mental health and addiction issues both in and out of the workplace. Wether you are looking TO help or FOR help.
: Legionella potential workplace hazard as workplaces reopen: https://www.whsc.on.ca/What-s-new/News-Archive/Legionella-potential-workplace-hazard-as-workplaces-reopen
---
Take these steps to reduce exposure to the virus and protect your health:
Wash your hands thoroughly and regularly with soap and water for at least 20 seconds or use an alcohol-based hand sanitizer that contains at least 60% alcohol;
Wear a face mask when a safe physical distancing is not possible;
Sneeze and cough into your sleeve; when using tissues, immediately dispose of them and wash your hands afterwards;
Avoid touching your eyes, nose or mouth;
Refrain from handshakes/hugs;
Regularly clean commonly used surfaces and devices you touch or handle;
Try to avoid contact with people who are showing symptoms of respiratory illness, such as coughing;
Check national travel advice before planning or taking trips;
If you have a fever, cough and difficulty breathing, seek medical care early and share previous travel history with your health-care provider;
If you think you might be sick, stay home from work or school;
Practice social distancing.