CITT Supplier (Corporate) Achievement Award - 2002
Excerpt from the text announcing the award to GALA (Paco Corp) which was read at the awards ceremony:
"GALA has provided the world of live performance many surprising and useful innovations over the years.
The Spiralift, better known as the Slinky, has solved countless problems related to lifting pits and stage platforms in restricted height situations with great precision and, it goes without saying, in a technically sophisticated yet marvelously simple method.
GALA has also innovated in the field of overhead machinery with the VertiClimb and VertiLift systems.
This year's nomination, however, is for the Gala Venue system that allows for the simple yet complete reconfiguration of a performance venue. This sophisticated system makes use of the years of R&D work that GALA engage in and proposes an elegant solution to the conundrum of the multi-purpose facility.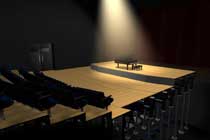 This firm has shown steady and continuous commitment to research and development and a dedication to the advancement of the technology used in the live performance industry.
From their first prototype system developed for the Theatre Denise Pelletier in Montreal, they have installed systems world-wide and continue to expand their influence from their headquarters in St-Hubert, Canada.
This Canadian firm has been a long time supporter of CITT and is surely deserving of our recognition.
Mr. Philip Laforest, president of GALA, had these words which were read at the awards ceremony:
"As members of this industry we appreciate and understand the important role that CITT plays. We are therefore proud to accept the CITT supplier achievement award.
Since its beginning in the late 1970's, Gala has always aimed to differentiate itself by providing innovation to our industry. The reputation we have built over the years has enabled us to be selected as supplier of electro-mechanical equipment in several prestigious locations in North America, in Europe and Asia. This displays our unrelenting commitment to the research and development as well as our dedication to the advancement of new technologies that can be utilized in this industry.
We commend the CITT for their commitment and for the recognition and support that they have brought to the Canadian Cultural Industries community. "