Award of Technical Merit - 2002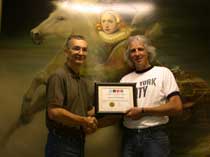 Excerpt from the text announcing the award to Cheval Théâtre which was read at the awards ceremony:
This award is presented to a production company or theatre, or a combination thereof, for outstanding achievement in the use of theatre technology on a specific project or production.
The nominators of the award addressed the selection committee with the following comments:
"Cheval Theatre exploded onto the scene in a flurry of hooves kicking up sawdust mixed with just enough pixie dust to make the performance truly magical. This company undertook to create a mystical experience for the audience while using that most magical of creature - the horse - as their central character.
This audacious performance mixing horse with man in a poetic environment housed under a custom designed and fabricated big top has marveled audience throughout North America.
The technical innovations required to make such an endeavor function were numerous.
They involved finding the right mix of sawdust, dirt and rubber pellets for the horses to perform in that would not cause uncontrollable dust in the big top. A specially designed big top to accommodate entrances designed for horses and their riders along with an adjacent touring stable. Lighting positions that had to be tested over and over again to make sure that the horses would accept the changing colours and shadows. Costumes were designed and created to accommodate the riders and their horses.
The most remarkable of all was to move all of this rig from city to city in locations where conditions for the horses were ideal.
Cheval Theatre merits the recognition of CITT for this daring undertaking."