What's New > Networking, inspiration and discoveries at the Vivats!
November 6, 2018
The 7th Vivats ceremony, the Loto-Québec awards for responsible events, took place last Monday October 29 in the 5e salle of the Place des Arts in Montréal.
A world pioneer in the field since the creation of the BNQ standard for responsible event management, Québec hosts hundreds of events of all sizes, which strive each year to reduce the environmental footprint of their activities. while maximizing economic and social benefits in their communities. The 7th Gala of the Vivats proudly rewarded Le Festif! Baie Saint-Paul (large budget category) and the Change the World Race with Équiterre (small budget category) with the prestigious les Grands Vivats Awards, for all of their achievements.
In total, nine awards were presented to eight event organizers, suppliers and venues, during the soirée held at the Cinquième salle des of Place des Arts in the presence of more than 230 industry representatives.
The award winners of the Vivats
IRONMAN Mont-Tremblant received the Vivats prizes for responsible management of residual materials and socio-economic commitment. The organizations behind the Zero Waste Festival, the International Seminar on Food Security and Nutrition in a Time of Climate Change, the Master's of Environment Seminar at the Université de Sherbrooke, the supplier Festivals and Green Events in the Eastern Townships and the PHI Center each received a Vivats prize from the following categories: prevention and reduction of waste at the source, food, transportation and energy efficiency, supplier and hosting venue. Founding sponsor of the Les Vivats competition and gala, Loto-Québec is pleased to see that hosting responsible events is becoming the norm in Quebec. "It is now an unavoidable aspect that contributes to the collective efforts we have to deploy in the fight against climate change", explains Simon Robert, director of social responsibility at Loto-Québec. The complete list of winners, their achievements, logos and photos are available in the media section at www.lesvivats.org.
Vivats to all our partners! 
Loto-Québec, Recyc-Québec, Place des arts, Bureau de normalisation du Québec, City of Montréal, Caisse d'économie solidaire, Bernard traiteur visionnaire, City of Gatineau, Écotierra, DESIGN MEDIAS, Festivals et événements Québec, Alliance de l'industrie touristique du Québec, NH PHOTOGRAPHES, Kubbii, Quintus, Loue1Robe, Kéroul, Le Fairmont Reine Elizabeth, Spectra et le CINBIOSE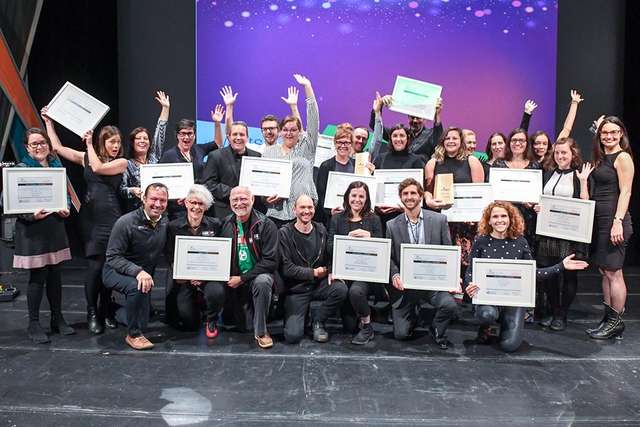 ---
GO TO ALL NEWS →
GO TO RECENT FORUM POSTINGS →
GO TO RESOURCE HUB →