What's New > Unison Benevolent Fund - Emergency Mental Health for the Music Community
October 13, 2020
This is a Mental Health Emergency – We Need Your Help Now
The COVID-19 pandemic has caused increased mental health hardship for many employed in the Canadian music industry including artists, crew, behind the scenes support teams and more. Countless individuals in the music community were the first to lose their livelihood, and the entertainment industry will be one of the last to recover.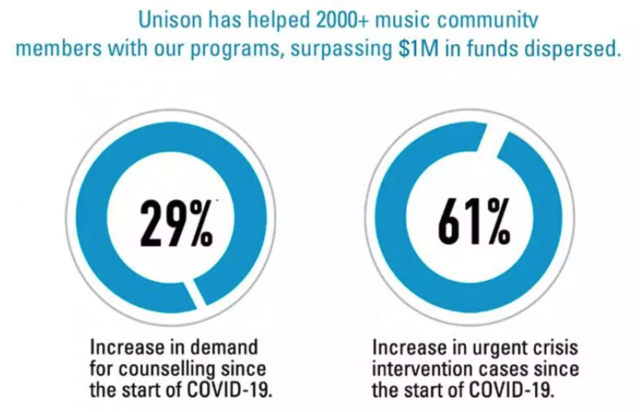 During a crisis, mental illness doesn't simply go away and for many, the increased stressors only make it worse. Since the onset of the COVID-19 pandemic, Unison has seen a 29% increase in demand for counselling services, and a 61% increase in urgent mental health crisis intervention cases.
In 2019 a study conducted by Record Union found that found 73% of independent musicians suffer from symptoms of mental illness. As music lovers, we ask that you take into consideration the heightened emotional, financial, and mental stresses that music-makers and professionals now face due to the shutdown of the entertainment industry.
Now more than ever, Unison is a critical safety-net for members of the Canadian music industry.  Our programs are free and confidential. Help us continue to be there for music-makers who need mental health crisis services at this crucial time.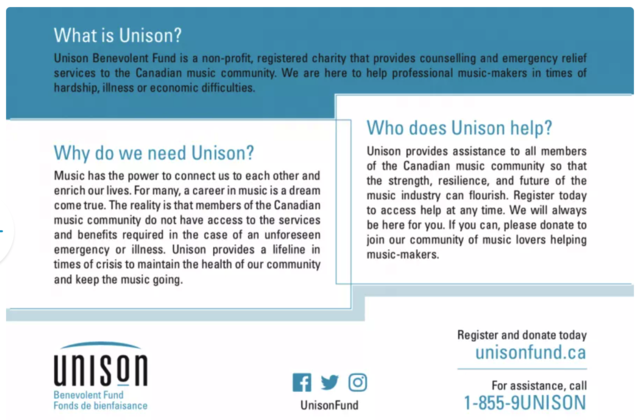 How is Unison helping right now?
Unison's counselling & health solutions program is available for music-makers and professionals at no cost, whether their hardship is related to mental health, physical health, family, money, work, or anything in between. Music professionals can speak confidentially and immediately to trained consultants who can connect them to specialized emergency counselling, set up consultations and refer callers to helpful agencies and organizations across the country. Counselling is provided by a multidisciplinary team of accredited professionals who hold master's degrees or PhDs in the fields of psychology or clinical social work.
There is an urgent need to provide counselling support that will mitigate the immediate and long term impact of the COVID-19 pandemic. With your help, we can continue to provide emergency counselling to music-makers and industry professionals who are hurting, and, together, ensure that when this crisis is behind us, Canadian music will be there to lead us out of this, stronger than ever.
What people are saying about Unison's counselling program:
"All the years of pain I'd been suppressing came up at once. I fell into a deep depression...for the first time in my life I asked for help. The Unison Benevolent Fund has many great services and free therapy to artists is one of them. Within two days of calling, Unison had me in therapy and I'm very happy to tell you that I feel better now than I've ever felt. Unison saves lives. I know this, because they helped save mine."–– Bill Bell, toured and recorded with Jason Mraz, Tom Cochrane, Jimmy Rankin, Alex Lifeson (RUSH), Lawrence Gowan, Justin Nozuka, Danko Jones, Shaye, Tara MacLean, and many more.
About Unison Benevolent Fund:
Unison Benevolent Fund is a non-profit, registered charity that provides counselling and emergency relief services to the Canadian music community. We are here to help professional music makers in times of hardship, illness or economic difficulties.
Unison is eternally grateful for the ongoing support of our donors. Every donation- big or small- will go a long way towards helping us care for the mental health of the Canadian music community during this difficult and rapidly changing situation. To learn more, please visit us at www.UnisonFund.ca.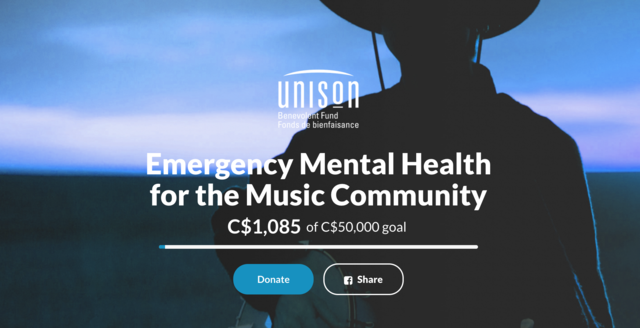 ---
GO TO ALL NEWS →
GO TO RECENT FORUM POSTINGS →
GO TO RESOURCE HUB →