What's New > UPDATE - Roundtable on Professional Recognition for Stage Technicians and Entertainment Riggers
June 11, 2010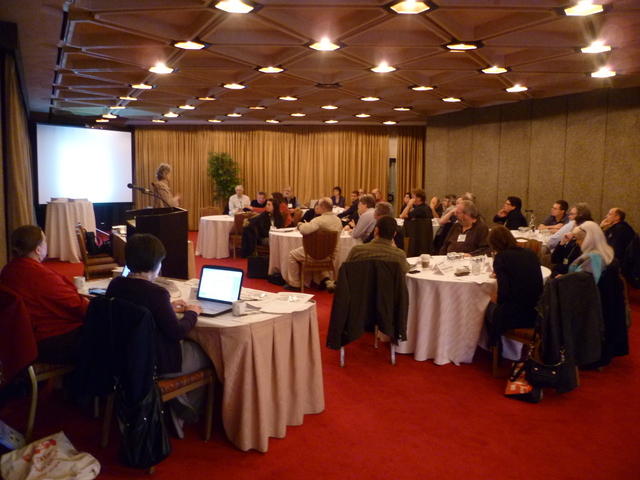 Susan Annis, Executive Director of CHRC, addressing the participants at the national roundtable held in Ottawa on April 6, 2010
The Cultural Human Resources Council (CHRC) and CITT have been working together to establish professional proficiency standards for General Stage Technicians (Stagehands) and Entertainment Riggers in Live Performing Arts, based on competency charts, which were developed by the industry in 2007. Expert working groups of practicing Riggers and Stagehands met in Montreal in December 2009 to update the competency charts and to define and recognize skill level of proficiencies for Entertainment Riggers and Stagehands.
On April 6, CHRC hosted a one-day facilitated national Roundtable, organized in collaboration with the CITT, at the National Arts Centre in Ottawa. The Roundtable brought together training providers/educators and the industry. Its main focus was to guide the development of a process for professional recognition for Entertainment Riggers and General Stage Technicians (Stagehands) in Canada
Roundtable participants validated proficiency levels based on the competency chart and profiles for Stage Technicians (Stagehands) and Entertainment Riggers.
There was a strong call to have them accepted and even adopted throughout the industry by employers, educators and Stage Technicians and Entertainment Riggers alike. There was a spirit of consensus around the work that has been done and the shared vision of something akin to national standards for skill levels for Stage Technicians and Entertainment Riggers. CITT expressed a willingness to take the lead in promoting the proficiency levels and working with industry to find ways to provide recognition of them. There was also a will to take this discussion across the finish line and CHRC will help in any way it can to achieve this objective.
It's happening in other countries (notably the US and England) – there's no reason why Canada can't be a leader in this. In fact, we should be and CITT will be updating membership periodically on this project as it unfolds.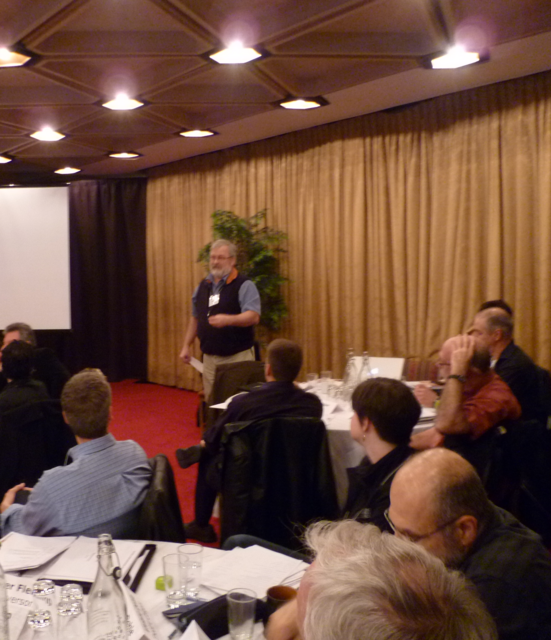 Norberts Muncs with the closing words on behalf of CITT.
List of those that attended the roundtable
John Avery, The Banff Centre
Erin Benjamin, CAPACOA
Sacha Bilodeau, Cirque du Soleil
Louise Boucher, CQRHC
Monique Corbeil, CITT/ICTS
Ken Coulter, Oakville Centre for the Performing Arts and CCI Ontario Presenting Network
Paul Court, Humber College
Lynn Cox, Algonquin College
Michael Dickinson, Freelance Technician and Expert Working Group participant
Vivane Dohle, Freelance Technician and Expert Working Group participant
Patrick Dubé, Stage Crew Inc.
Bob Eberle, University of British Columbia
Peter Fleming, Ryerson Theatre School
Don Finlayson, Shaw Festival
Graham Frampton, Decidedly Jazz Danceworks
Alex Gazalé, National Arts Centre
Geoff George, Grant MacEwan University
Sarah Hirst, Sheridan College
Sean McGuire, IATSE
David Mercier, AQTIS
Norberts Muncs, CITT/ICTS
Gaétan Pageau, Palais Montcalm
Denis Paquette, Maison de la culture de Gatineau
Don Parman, Massey Theatre
Peter Roberts, National Theatre School of Canada
Karl Simmons, St. John's Arts and Cultural Centre and Expert Working Group participant
Tracy Smith, Sheridan College
Gerry van Hezewyck, University of Alberta
Pierre Morin, who facilitated the drafting of all three charts and of the level of proficiencies was also present, as well as two representatives from Human Resources and Skills Development Canada (HRSDC).
---
GO TO ALL NEWS →
GO TO RECENT FORUM POSTINGS →
GO TO RESOURCE HUB →