What's New > Tony Awards Telecast Relies on SHURE WIRELESS Microphones
August 8, 2012
Broadcast live on CBS, the 66th Annual Tony Awards broadcast was remarkable for its flawless delivery of live performances, with virtually every stage microphone at New York's famed Beacon Theatre a Shure wireless microphone. Firehouse Productions of Red Hook, NY, provided the backline equipment and expertise.
"The fact is, there was only one hardwired microphone on stage that night," confirms Vinny Siniscal of Firehouse, RF coordinator for the event. "Every wireless microphone in the Beacon Theatre that night was a Shure, either Axient™ or UHF-R. When you're managing upwards of 150 wireless channels in New York City, you need equipment you can rely on. That's why I recommended that we go with a single manufacturer. We went with Shure because that is my preference in a crowded RF environment like Manhattan. I know that once they are properly set up, the Shure mics are going to be solid, so I can spend the rest of my time dealing with other issues."
Most of the 56 microphone channels were Shure UHF-R® Series, using the UR1M micro-bodypack transmitter. "For Broadway, where the transmitters are typically sewn into costumes, it makes a lot of sense to standardize on one system," Siniscal notes. "That makes the costume designers happy, and since all the mic connectors are the same, all we have to do is plug in the mic. The Shure micropacks with lithium batteries give me better performance and longer life than any other option. They've been my preferred transmitter for a couple years now."
Four critical wireless channels, including the one for host Neil Patrick Harris, used the new Axient system. "This was the perfect situation to showcase Axient," says Siniscal. "We used bodypack and handheld versions at various points throughout the show. The frequency diversity feature is obviously a huge benefit to make sure your key channels never fail, but there's a lot more to it than that. It's the best sounding wireless system I've ever heard, and the noise floor is lower than anything else out there, as far as I'm concerned."
For the Tony Awards, Siniscal prefers to run Axient in manual frequency diversity mode. This way, the system alerts him to potential frequency conflicts, with Siniscal deciding whether to seamless switch to the designated backup frequency. "In a scenario where you're running 150 or more frequencies outside in New York City, you don't have that many spares available, so you want to spend them wisely. I love that Axient has the flexibility to work either way – either automatic frequency shift or, for a show like the Tony Awards, just giving me the information I need to make good decisions."
NEW YORK, NY - JUNE 10: Josh Young and the cast of 'Jesus Christ Superstar' perform onstage at the 66th Annual Tony Awards at The Beacon Theatre on June 10, 2012 in New York City. (Photo by Theo Wargo/Getty Images)
Siniscal went on to list additional Axient features that he finds useful in a high-stress environment like the Tony Awards telecast. "In wideband, you can punch up any frequency and listen to it locally on headphones. I use that tool as a way to balance my antennas. For example, I'll have my assistant wear the host mic so I can look at the RF gain of my antennas with the push of a button. I can make sure that the RF level is the same on both the A and B antennas; whether it's on stage, in the street, in the balcony – any place I have multiple coverage zones. I can align and adjust the antenna system to ensure I won't have any dropouts, no matter where the talent goes."
Inside the Beacon Theatre, nearly all the staging was done with motorized video walls, which would be reconfigured between numbers. "The video walls did not make my life any easier," says Vinny Siniscal. "With the shape of the performance area constantly changing, we had to design the antenna system with surgical precision to make sure we always had coverage."
In addition to the on-stage and backstage areas, a number of wireless systems were also operating outside, covering celebrity arrivals in the red carpet area. Siniscal used a mix of antenna types and pickup patterns to meet this challenge. "Basically, I broke down the antenna system into two zones – the stage and house, then the streets and alleys. Inside, I used powered antennas, with different mounting locations and pickup patterns," he relates. "I balance the A and B sides with pads to make sure the coverage is even everywhere. Outside, I used passive directional paddles, so I don't pick up too much of the RF noise that's out on the street."
Because of space limitations inside the theater, Siniscal was stationed outside in Firehouse's Engine One truck. Every wireless signal, including microphones, IEMs, and comm/IFB systems,  was sent to the truck via fiber. Siniscal tracked the entire show through video feeds, using the Axient Spectrum Manager and Shure's Wireless Workbench software as key parts of his arsenal of wireless management tools.
"Engine One has been gaining popularity at events when time and space within the venue are at a premium. It's what we call Remote Stage Left," says Siniscal. "Anything that would typically be located stage left – monitors, RF, comms – arrives on the truck. That allows us to build and test all the systems at the shop. Once we drive up to the venue and expand the truck, it's just a question of running fiber optics, placing my antennas, adjusting filtering, and balancing the gain of all the elements. That's the only way to put together a show this challenging in the two prep days we have on site."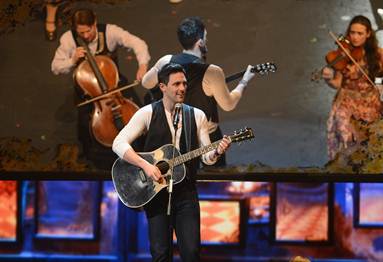 NEW YORK, NY - JUNE 10: Steve Kazee performs on stage with the case of 'Once the Musical' onstage at the 66th Annual Tony Awards at The Beacon Theatre on June 10, 2012 in New York City. (Photo by Andrew H. Walker/WireImage for Tony Awards Productions)
Vinny Siniscal is pleased to report that the Tony Awards telecast was flawless from a wireless perspective. "Afterward, there were a lot of high fives. This was my second year as RF coordinator for the Tonys, and this approach made everything a lot easier," he says. "I decided to go with Shure because it's been the most reliable, especially when the spectrum is tight and the environment has a lot of RF noise. Which is really anywhere in New York."
---
GO TO ALL NEWS →
GO TO RECENT FORUM POSTINGS →
GO TO RESOURCE HUB →