What's New > The holiday season is a time to slow down, look back and evaluate. What a year it has been!
December 12, 2018
Last year, we distributed a record-breaking $706,440 to entertainment professionals facing crisis situations. This clocks in as an increase of over 40% in comparison to our previous year; it shows how impactful our work is - the need for our services is greater than ever.
Our work has always meant much more than distributing emergency financial assistance. Last year, we expanded our team to include highly-qualified staff members with extensive training in personal support and advocacy. They bring their skills and expertise to provide compassionate support to our clients and help them find a viable solution to the crisis they are experiencing.
Last year, we continued to grow our Financial Wellness Program to be able to equip arts and entertainment professionals with knowledge and tools to build and maintain financial stability.
As we approach the holidays, we have a great deal to celebrate and be thankful for. Our work is made possible by people like you. On behalf of our staff, board, and the community we serve, I would like to thank you for your support.
Actor Dalal Badr says: "We never know what the challenges of others really are. It's not for us to know, but when we can help, and we do it through giving to The AFC, it could change someone's life forever. That's a beautiful thing."
Last year, you supported The AFC by making a donation, sharing your story, organizing a fundraiser, spreading the word, volunteering, working with us, and taking an interest in what we do. This holiday season, I hope you will help change someone's life forever by making an end-of-year gift today.
Have a restful and festive holiday season!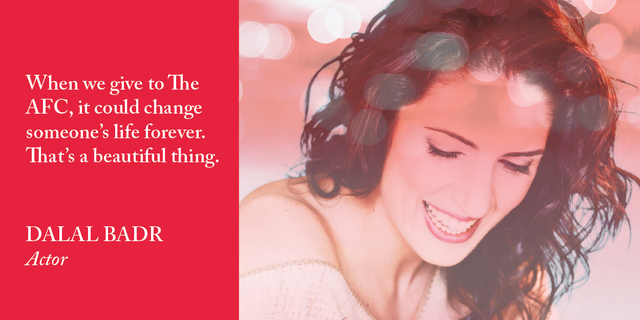 ---
GO TO ALL NEWS →
GO TO RECENT FORUM POSTINGS →
GO TO RESOURCE HUB →