What's New > Student Volunteer at Rendez-vous 2011 in Victoria BC August 11-13 Registration now on-line
April 18, 2011
The CITT Student Volunteer ProgramGet INVOLVEDBe CONNECTEDLive the EXPERIENCE
CITT's Annual Conference and Trade Show Rendez-vous has been held for 20 years. During that time, student volunteers have played a key role in guaranteeing its success. Whether they assist in mounting the trade show, setting up the social events, or helping out at the registration desk, the student volunteers contribute in making our annual event a tremendous hit!
Sign up and join us in
Victoria, British Columbia
from
August 11 to 13
for yet another exciting conference! Be part of the action and connect with the Canadian live performance and entertainment community. Fill out the
registration form
and we will get in touch with you regarding your schedule and duties. During the conference, student volunteers are assigned to the following crews:
The Trade Show Crew
The Technical Support Crew
The Running Crew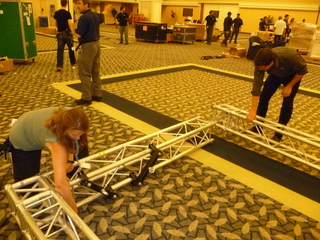 Setting up the Trade Show


WHY VOLUNTEER?
As a student volunteer you are treated as one of the family. Volunteers are warmly welcomed and encouraged to take part in the activities and attend the events; it's a combination of volunteer work and good times! Plus, we'll introduce you to influential people in the industry such as professional workers, potential employers, mentors and teachers.
And... you also get the following perks*:
A Full Conference Pass 
A complimentary Student Membership for one year**
Unique networking opportunities
Hands-on experience with professionals
Access to all the sessions, social events and meals
Swag beyond recognition
Lifelong friendships
Discover new cities and regions
Fun, Fun, and more Fun!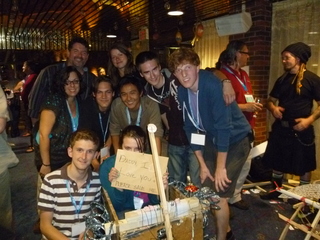 Junk Challenge

How does it works?
As a student volunteer you can attend all the conference events including sessions, forum, social events, etc., but you are required to dedicate you time and volunteer in setting-up and tearing down the conference events first. The busiest day is Thursday, which is the day we set up the trade show. Friday and Saturday are also busy, but we make sure that the student volunteers are able to take in as much of the conference as possible. The work schedule is prepared by the conference technical director who manages the volunteer crews.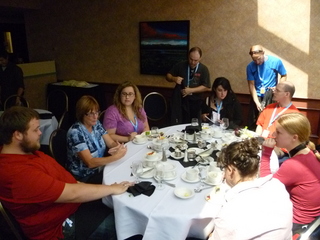 Networking with professionals


Pre-conference Workshops
Student volunteers are welcome to attend the pre-conference workshops scheduled on August 9 and 10, 2011 but they must register for those and paid the registration fee as these workshops are not part of the benefits offered to volunteers. Pre-conference workshops are listed on the conference delegate registration page. 
Thank you for your interest in volunteering at our conference, we look forward to having you on board! 
Visit our
Student Volunteer Program webpage
.
* Benefits are subject to change without notice. Student volunteers must be legal age of the province in which the conference is held and are required to provide for their transportation to the conference as well as their lodging for the duration of the conference. For more details, please contact the CITT National Office at
** Some restrictions apply. For more details, please contact the CITT National Office at 

---
GO TO ALL NEWS →
GO TO RECENT FORUM POSTINGS →
GO TO RESOURCE HUB →