What's New > Solotech expands with new offices on both coasts: Continued growth in Vancouver and Halifax
May 3, 2013
Montreal, May 1st, 2013 — On the opening day of the 14th edition of the En Coulisse trade show, Mr. Denis Lefrancois, president of Solotech, announced the opening of two new offices for Solotech's Canadian Sales and Integration division.
Solotech's Vancouver office will operate under the leadership of Brian Konechny. Brian is well known and respected in the live entertainment industry, his considerable talents will contribute greatly to the success of Solotech's West Coast operations.
Integration sales for the Vancouver office will be handled by Larry Medwin who brings to Solotech his long and diversified experience with lighting, audio and video sales in Western Canada. Additional information on Solotech's new West Coast office in Vancouver can be found at www.solotech.com/Vancouver
Solotech's Halifax office will be managed by Eric Bourgeois and sales will be handled by Bill Lawlor. Both Eric and Bill have been active in audio visual sales and integration in Atlantic Canada and are well respected by both our clients and our suppliers. This team will ensure the growth and success of Solotech's presence in Atlantic Canada. Additional information on Solotech's new Atlantic Region office in Halifax can be found at www.solotech.com/Halifax 
At the same time, Solotech is very pleased to announce the addition of Rob Lanthier to the Sales and Integration team of our Ottawa office. Our continued commitment to the National Capital Region has led to significant growth for Solotech in the Ottawa and Eastern Ontario markets in both government and private sector projects. Additional information on Solotech's National Capitol Region office in Ottawa can be found at www.solotech.com/Ottawa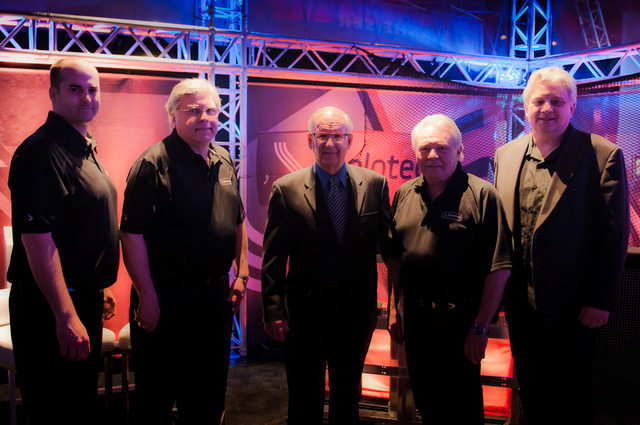 Pictured left to right: Eric Bourgeois, Bill Lawlor, Denis Lefrancois, Larry Medwin and Brian Konechny at En Coulisse in Montreal QC
About Solotech
Founded in Montréal, Canada in 1977, Solotech operates on an international level as one of the world's largest providers of turnkey sound, video, lighting and rigging systems. The sales and integration division provides audio, video and lighting systems for a wide variety of project types from board rooms, council chambers, theatres and auditoriums, arenas and stadiums, classrooms, television and recording studios, hospitality, retail and transportation for both private and government clients.
The rental division's professional staff and crew travel around the globe, offering leading edge technology and the best in touring equipment and service as their hallmark. The complete technical needs for the most complex and prestigious of international shows have been managed by Solotech, for star performers such as Britney Spears, Celine Dion, Leonard Cohen, Kylie Minogue, Andre Rieu, Bryan Adams, Diana Krall, Michael Bublé and Wintuk as well as production for Lillith Fair, Radio City Music Hall and Cher and Bette Midler shows at Caesars Palace in Las Vegas and many others. They have also managed the technical side of Olympic events, and constructed permanent showroom installations in some of the world's entertainment hot spots like Dubai, Macau and Las Vegas.
For more information:
Ron Morissette
Phone: 514 370 5200
Email: 
---
GO TO ALL NEWS →
GO TO RECENT FORUM POSTINGS →
GO TO RESOURCE HUB →