What's New > Solotech concludes a partnership with Yoop for interactive virtual events
July 24, 2020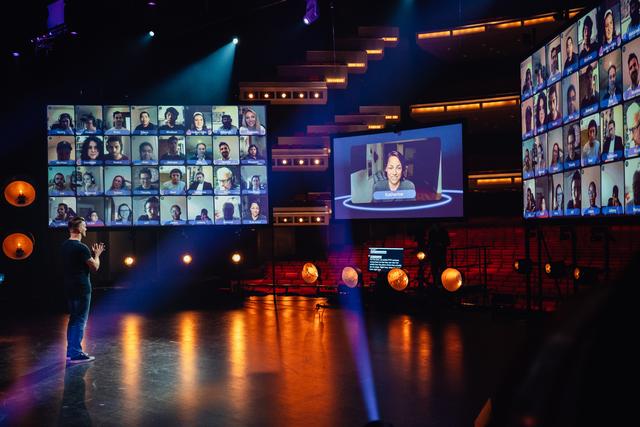 Montreal, July 24, 2020 – Solotech is proud to announce that it has added another string to its bow as a trusted partner of Yoop eSpace, a virtual and multifunctional production environment that enables content providers to create and stream high-quality events in an immersive and interactive way. Benoît Fredette, businessman and Yoop founder, recently launched the new two-way Yoop platform, which offers a real-time visual and audio interaction between artists and spectators.
This partnership with Yoop was ideal: the two companies are immersed in the entertainment industry and always aim higher by proposing modern technologies to meet customer needs. It represents an opportunity to innovate and to go beyond the barriers of distance by bringing content providers and their audiences closer together.
Solotech supports Yoop by providing its production expertise, its equipment and technical teams to ensure the audio, video capture and the broadcasting of events. She is also offering studios where the events can be held. Recognized for its state-of-the-art equipment and well-established global footprint, Solotech will support Yoop in its desire to serve customers around the world. The Yoop eSpace is already planning to open locations in Los Angeles, New York, Nashville and the UK, adding to its first site in Montreal.
The combination of expertise will greatly benefit clients by offering a new interactive, simple and secure way to attend virtual events. Keeping our culture alive and its related industries while promoting it around the world. It is the beginning of a new era where real exchanges between fans and artists (or even between companies and their employees!) are at the forefront thanks to a direct superior connection, a possibility of a two-way interaction and a production quality worthy of television studios.
Martin Chouinard, President of the Live Productions Division at Solotech, is enthusiastic about this partnership: "Yoop and Solotech have the same objective, to allow spectators to reconnect with their favorite artists through real contact where the energy can be felt on both sides. We are excited to bridge two worlds which have been distant for so long, it will help infuse a lot of passion into the great cultural community. Thanks to cutting-edge technologies, we can build a future beyond physical constraints, without sacrificing the quality of production and offer an ultimate experience. We see real potential for corporate events, musical performances, product launches, training sessions, to name a few."
In parallel, Solotech has broadened its service offering by adding webcasting expertise, the inauguration of studios and new equipment targeted for artists and workers in times of pandemic. Find out more here.
---
About Solotech
Founded over 40 years ago, Solotech is a world leader in audiovisual and entertainment technology with 15 strategic locations in Canada, the United States and in the United Kingdom. Thanks to an inventory encompassing over 300 renowned manufacturers, Solotech is the single source for audio, video, lighting, rigging, soft goods, control and collaboration solutions & services. The company is internationally recognized for its expertise in Live Productions and Systems Integration in various markets, namely music, sports, business, culture and education. Solotech's offices are located in Los Angeles, Las Vegas, Nashville, Chicago, Miami, Orlando, Pensacola, London, Birmingham, Manchester, Toronto, Montreal, Ottawa, Quebec City and Saguenay.
Find out more at www.solotech.com.
About Yoop
Yoop is an entertainment company, specialized in creating, developing and operating products and services to help creators distribute their content directly to their fans and improve their experience. The Yoop platform offers in-person and virtual events and is available to download via the Yoop app, on the App Store and Google Play, or Yoop website at yoop.app.
Contact
Christine Latour
Vice-President, Marketing and Communications
media@solotech.com
514-370-5225
---
GO TO ALL NEWS →
GO TO RECENT FORUM POSTINGS →
GO TO RESOURCE HUB →