What's New > Show Distribution unveils its new Raynok IMPERIUM Console
October 16, 2014
Quebec City, October 16 2014 - Show Distribution, maker and distributor of the Tour Series Chain Hoists has just unveiled its new IMPERIUM Console. This console runs the same intuitive and reliable Raynok Software that operators have come to appreciate, in a compact and feature rich package.
The versatility and simplicity of the IMPERIUM Console puts the power and control of all motion functions at every operator's fingertips. They can call and recall functions and cues with the press of a single button. Programmable macro buttons also allow operators to customize their desktop to not only save time but improve efficiency and safety.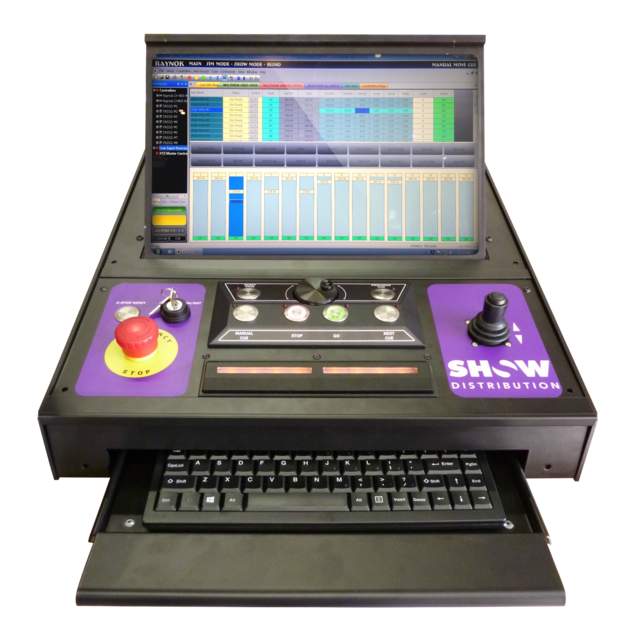 Other features include a MS WindowsTM Operating System, a built-in touchscreen, a HDMI monitor output for a crisp and clean image, an integrated Hold-To-Run (HTR) safety device, a fully integrated Emergency Stop System Control, an encoder wheel for speed scaling of axes in motion and a live back-up function on secondary devices.
Its sleek ergonomic design offers a full function keyboard, several USB ports for peripherals, multiple network ports and an onboard joystick for manual movements, in a 19'' wide format for road-case integration.
This new console will be on display at the LDI 2014 in Las Vegas, booth 1931, from September 21 to 23, 2014.
For information:
Jean-Philippe Robitaille
V.P. Research & Integration
Show Distribution 
T: 418-686-0543 # 203 
C: 418-576-2396
Nathalie Lastrade
Director, Communication & Marketing
T: 514-343-9090 # 254 
C: 514-808-1679 
---
GO TO ALL NEWS →
GO TO RECENT FORUM POSTINGS →
GO TO RESOURCE HUB →