What's New > Rendez-vous 2019 offers pre-conference workshops and Tech-Nique prior to annual conference
May 27, 2019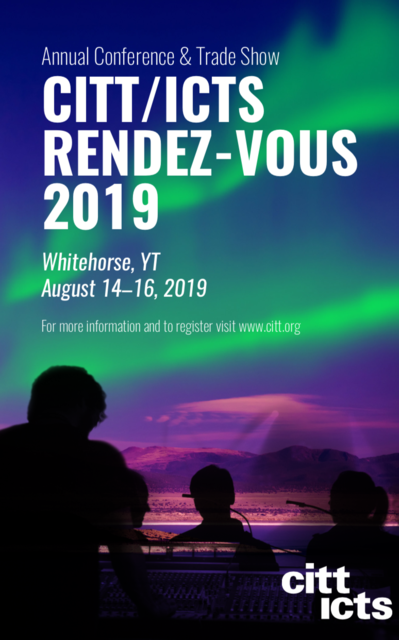 PRE-CONFERENCE WORKSHOPS:

CITT/ICTS is pleased to offer the following pre-conference workshops at Rendez-vous 2019 in Whitehorse Yukon August 12, 13 and 14 (morning)

2-day ETC Ion Xe console training
2-day Human Resources Management in Cultural Organizations
1.5 day Vectorworks Fundamental and Spotlight
1.5 day Scenic Painting All that Glitters is not Gold: Painting the Magic
---
TECH-NIQUE 

The Yukon Theatre for Young People (YTYP), through funding from the Yukon Government, and in partnership with the 2019 Rendez-Vous Host Committee, is organizing a Tech-Nique event from August 10 to August 12, 2019, just prior to the CITT/ICTS Rendez-Vous 2019 conference in Whitehorse, Yukon.

Tech-Nique is a 3-day training intensive where industry professionals gather to team up and teach up-and-coming technicians and people who are interested in learning more about the backstage side of live production. Once the workshop training part is done, the participants will run a full show on the evening of August 12.

The event will be hosted at the Yukon Arts Centre Theatre in partnership with the @YAC residency. This is the first time Tech-Nique will be held in conjunction with the CITT/ICTS Rendez-Vous. It is a great opportunity for industry professionals to share their knowledge through Tech-Nique and then participate in the entire conference.  
---
GO TO ALL NEWS →
GO TO RECENT FORUM POSTINGS →
GO TO RESOURCE HUB →