What's New > RC4Magic Series 3 Wins PLASA Award For Innovation!
October 10, 2014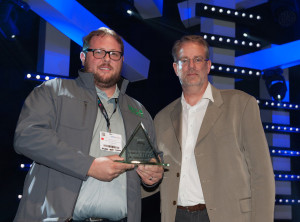 Sean Dane (left) receiving the award from PLASA judge
In a feat of unparalleled engineering wizardry, RC4 Wireless has packed the past, present, and future of wireless entertainment lighting into a palm-sized capsule.  Award for Innovation judges at PLASA London 2014 were astonished, some revisiting the Innovation Gallery and RC4 stand several times to be sure they hadn't fallen prey to sorcery.  But as Sean Dane, Application Specialist at RC4, demonstrated each new RC4 Series 3 Harmonized Design feature in turn, mouths were agape with awe.
The DMX4dim Series 3 four-channel dimmer uses clever technologies to pack a variety of useful features in a tiny package. It maintains its price point from the previous system but adds more features. The lifetime warranty seals the deal. One judge said the only thing it doesn't do is zip up your pants. - Judges of PLASA Innovation Awards 2014
Inspired by the Apple iPhone and the Leatherman multitool,

RC4 Series 3 technology delivers unparalleled versatility to

propsmasters and show electricians around the world.

 

James David Smith,

President and Chief Product Designer

RC4 Wireless

 
New RC4Magic Series 3 wireless devices offer a startlingly comprehensive feature set in packages that are dangerously easy to lose in the laundry, between car seats, or in sidewalk cracks and crevices.  The culmination of nearly two years of development, RC4 Series 3 devices are part of RC4 Harmonized Design™.  At the core of every device is a powerful Digital Signal Processor (DSP), fast FLASH memory, and an extensive firmware code base authored in-house at RC4.
"What I did for several years was think – about what people need now and will need in the future," explains James David Smith, President and Chief Product Designer at RC4 Wireless.  "I drew block diagrams and scribbled cryptic charts. Then, for the past two years, I routed every copper trace on every circuit board, wrote every line of code, tested every feature and function, and revisited and reworked almost all of it.  Today it works, and it works well."
"Thank you, PLASA, for recognizing our efforts at RC4 to make things better, smaller, more versatile, and more useful…" Mr. Smith then waved his wand, clicked his heels, and disappeared in a color-matched flash that was precisely 736 Twickenham Green.
---
GO TO ALL NEWS →
GO TO RECENT FORUM POSTINGS →
GO TO RESOURCE HUB →