What's New > PLASA and ProSight Launch Free Resource Guide for the Entertainment Technology Industry
December 18, 2013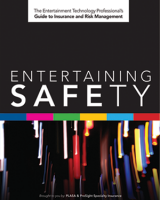 Entertaining Safety Advances the PLASA-ProSight Goal to Help Business Owners Promote Safety and Protect Their Livelihood
ProSight Specialty Insurance, a global specialty insurance carrier in the film and live events industries, and PLASA have released Entertaining Safety: The Entertainment Technology Professional's Guide to Insurance and Risk Management, a comprehensive reference guide that covers the intricacies of insurance policies and general occupational safety, tailored specifically to the needs of entertainment technology companies. Entertaining Safety was unveiled at PLASA's annual awards ceremony held in advance of LDI 2013. The free industry resource is available for download at plasa.prosightspecialty.com/handbook.
Entertaining Safety is a product of ProSight and PLASA's alliance, formed in April, which aims to enhance technical standards and promote public safety in the entertainment industry. Over the course of this year, the two organizations leveraged ProSight's extensive insurance and risk management expertise and PLASA's specialized entertainment industry knowledge to develop this simple, straightforward guide that will help entertainment technology business owners protect their livelihood, and maintain a safe environment for their workers and the people who enjoy the events they produce.  
 
Filling a Significant Industry Need
In recent years, safety has been a hot topic in the industry, often for the wrong reasons. High-profile stage collapses at the 2011 Indiana State Fair and prior to a 2012 Radiohead concert at Downsview Park in Toronto resulted in casualties and numerous injuries. In addition, business owners in this industry are finding themselves battling liability issues on many other fronts; it is not uncommon for even a well-intentioned company to discover that its insurance did not cover a natural disaster, or find itself legally responsible for a situation it thought it had adequately addressed because its protocols did not meet the industry's highest standards. Insurance and workplace safety issues of this nature go hand in hand. Both are all about protection—of property, assets and people—and Entertaining Safety assists entertainment technology organizations in safeguarding their business.

Members and/or their current broker are encouraged to talk to ProSight Specialty Insurance about a new or renewal quote and can reach out directly to Kevin Topper at ktopper@prosightspecialty.com or 818 230 8202. ProSight is the company that made PLASA's Technical Standards free, ultimately helping to enhance safety industry wide.

Download Entertaining Safety: The Entertainment Technology Professional's Guide to Insurance and Risk Management for FREE by visiting: plasa.prosightspecialty.com/handbook.
---
GO TO ALL NEWS →
GO TO RECENT FORUM POSTINGS →
GO TO RESOURCE HUB →