What's New > PLASA Announces the 2012 Rock Our World Award Winners and
October 19, 2012
PLASA Announces the 2012 Rock Our World Award Winners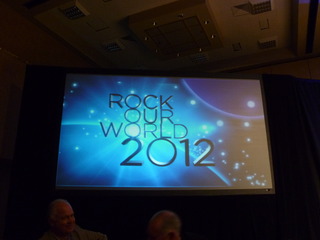 NEW YORK, NY – The fifth annual Rock Our World Awards were presented at the PLASA Cocktails and Awards Reception on Thursday evening, October 18th, the evening before the LDI show. These awards, which recognize ground-breaking achievement by PLASA Members were created to acknowledge the genius of both the creator of technology and the designer or integrator who applies the technology in a real world environment.
Twenty-five nominations were received from across the industry internationally and these were narrowed down to a shortlist of six finalists for our distinguished panel of judges to review. The judges for this year's awards were Neil Austin, William Gorlin, Peter Nigrini, Gareth Owen, Abigail Rosen-Holmes, and Nick Simmons.
The judges panel was chaired by Mike Wood, who said prior to announcing the winners, "The Rock our World awards were born out of a desire to recognize the very best of our industry, in any aspect; a technical product, an application, or a collaborative project. A gadget, a show, or a building. A piece of equipment that breaks the mold, a design that pushes the limits, or an event that stuns the audience."
The judges were given free rein to select as many or as few winners as rocked their world, and the winners were:
ELC Lighting for the Green-GO digital intercom system
Mike Wood commented, "In all the years of the Rock our World Awards the Green-GO received the quickest agreement as an award winner that I can remember. The judges were universally enthusiastic in their praise, with Gareth Owen perhaps summing it up the best, "This is bloody brilliant!"
The Pan American Games in Guadalajara - Involving PRG
The judges were particularly impressed with the central Halo and its rigging and use for lighting and projection.
Congratulations to all winners! Now it's time to keep your eye out for what rocks your world in the coming year. Nominations will open next spring. What magic captures your imagination and reminds you why you're in this industry?
 For more information: 
Contact: Lori Rubinstein
212-244-1505
lori.rubinstein@plasa.org
---
GO TO ALL NEWS →
GO TO RECENT FORUM POSTINGS →
GO TO RESOURCE HUB →