What's New > MDG and cast C.Adolph & RST Distribution GmbH Celebrate 20 years in Germany at Prolight & Sound
March 19, 2012
Prolight & Sound 2012 will be the scene of a big celebration for MDG and cast C.Adolph & RST Distribution GmbH as the two companies celebrate a long-standing association. The show marks the twentieth anniversary of MDG's appointment of cast C.Adolph & RST Distribution GmbH as its distributor for Germany, Switzerland and Austria.
cast C.Adolph & RST Distribution GmbH promotes the whole range of MDG products across the entertainment, security, fire-fighting and industrial application sectors in these countries. This is backed up by comprehensive support and training roles.
High profile installations over the past twenty years have included Legoland Germany (2002) which marked one of the biggest MDG theme-pack installations to use this automatic refilling system and an art installation by artist Olafur Eliason, Innen Stadt Aussen Berlin (2011), where MDG fog generators were used to fill a room with fog to capacity. The fog was illuminated with changing coloured light, obscuring the visitors who were able to immerse themselves in the coloured haze as part of the experience.
Outside of the entertainment industry, cast C.Adolph & RST Distribution GmbH has provided customised MDG solutions to the Fire Fighting Training Centre at Andelfingen and the Swiss Air training facilities and a fog simulation system to VW Autostadt, Wolfsburg.
Recent entertainment projects include the Eurovision Song Contest, Düsseldorf which, renowned for its large-scale, high tech productions, used over forty MDG generators including Atmosphere Hazers, ICE FOG and MAX Series. "Most major German television shows will have MDG units hidden on them somewhere!" says cast's Sabine Siller. "All rental companies hold MDG in their stock because they can rely on their quality, durability and performance, especially under live conditions."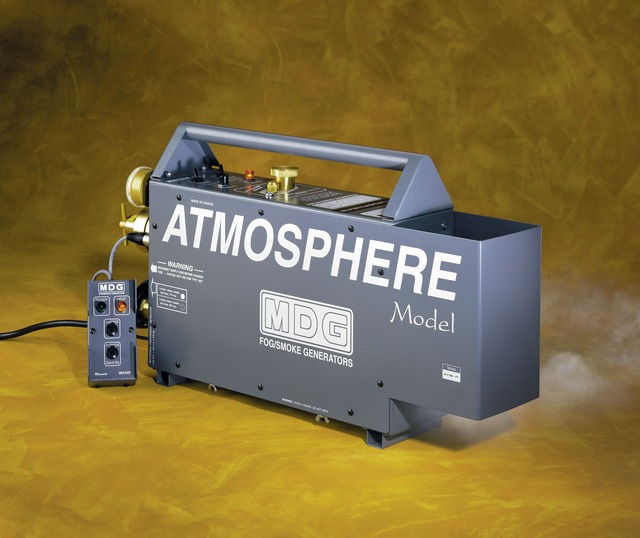 MDG Atmosphere fog machine circa 1984 
cast C.Adolph & RST Distribution GmbH Technical Director, Heinz Siller says: "One of our first big projects was to fill the 13km-long Frejus Tunnel under the alps with fog. We did this using MDG Ultra Max and Nema Box generators with such success that frightened Italians were seen running out the opposite end of the tunnel! I have even climbed the Matterhorn with an MDG machine just to show the client they can work even at a height of 3842m. Over the years you come to realise that MDG is not just a good product, it is a versatile solution for many different tasks!"
"Partners since 1992, twenty years in Germany in association with the same people and the same company is a real cause for celebration," says MDG's Martin Michaud. "Prolight & Sound is an opportunity to celebrate the journey so far and to look forward to the next twenty years. Cast has been fantastic in support of MDG products and the team, led by Heinz Siller, have worked tirelessly to bring MDG to a wide range of customers. Heinz possesses the very first ATMOSPHERE, our flagship product which is the industry standard worldwide. Now, if I could only convince him to give it back…"
At Prolight & Sound, MDG will be displaying the latest version of its revolutionary dual mode Digital Atmospheric Generator, TheONE complete with its highly adaptable touring cradle, theFAN, a new digital, fully DMX/RDM standalone fan, the range of Atmosphere Haze generators, the MAX fog generators and the ICE FOG Q low-lying fog generator.
Come and visit them on the MDG stand at Hall 9.0 Booth E66 in the cast C.Adolph & RST Distribution GmbH area… where else would they be!
---