What's New > LiteGear's LiteMat Fixtures Make All the Difference
November 1, 2018
Last year, LiteGear designated their LiteMat+ fixture to participate in the Behind the Scenes Pledge-a-Product Program which resulted in a generous donation of $7500. This year, owners Al DeMayo and Mike Bauman decided to take their support to the next level and designated sales of all LiteMat fixtures to benefit the charity. Recently, at their booth, they presented a check for $15,000 to members of the Behind the Scenes Board of Directors, representing an incredible commitment by the company, its employees and its customers to care for their colleagues who are seriously ill or injured.
LiteGear Inc., are designers and builders of LED lighting products for professionals in the Cinema, TV, and HD Video industries and are pioneers behind the popularization of flexible LED lighting for use in Cinema and TV lighting applications. The LiteMat fixtures are designed to offer soft yet controllable light for location or studio work. Available in 6 sizes, these bi-color LED fixtures are made of a composite of polypropylene and sheet aluminum making Series 2 LiteMat and LiteMat+ one of the thinnest and lightest luminaires in its category. Learn more about LiteMats at www.litegear.com.
Upon presenting the check, LiteGear CEO, Al DeMayo, stated, "With decades of experience working in the business, my partner Mike and I have worked with lots of great filmmakers. We are happy to know the "Behind the Scenes" charity is behind-the-technicians should they need it."
Lori Rubinstein, Executive Director of Behind the Scenes, commented, "LiteGear and its staff have wholeheartedly embraced Behind the Scenes. Their generous donations will make an enormous difference in our ability to provide assistance to those who come to us in need, and they are playing an important role in helping to spread the word about the charity. Every shipment of LiteMat fixtures includes a letter letting the customer know the impact their purchase has just had. LiteGear has become a wonderful partner in helping us to fulfill our mission."
The Behind the Scenes charity provides entertainment technology professionals who are seriously ill or injured with grants that may be used for basic living and medical expenses. For more information about Behind the Scenes, to donate, or to apply for a grant, visit www.behindthescenescharity.org. For more information about the Pledge-a-Product Program please contact info@behindthescenescharity.org.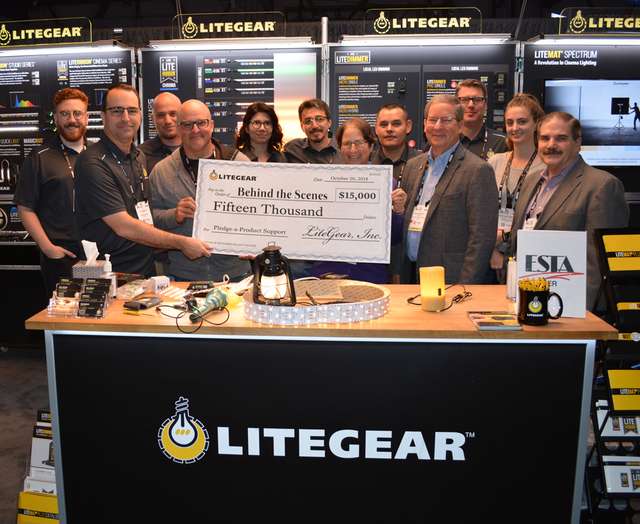 Photo ID: LiteGear owners Al DeMayo (2nd from left) and Mike Bauman (4th from left) and their staff present a check for $15,000 to Behind the Scenes Board members Bill Groener (far right) Rick Rudolph (4th from right) and Lori Rubinstein (6th from right).
---
GO TO ALL NEWS →
GO TO RECENT FORUM POSTINGS →
GO TO RESOURCE HUB →