What's New > Health and Safety: A Renewed Focus in this Festival Season
July 16, 2012
The stage collapse and tragic death of a Radiohead crew member in Toronto on June 16 has created a shock wave in the industry. Investigators don't yet know the cause for this tragic incident, and  won't until the final report comes out, which may take some time. Such an investigation report was issued on July 7, one year after another stage collapse at Ottawa Bluesfest. This report found that there were no structural issues with the stage and states that the collapse was due to a "severe weather event".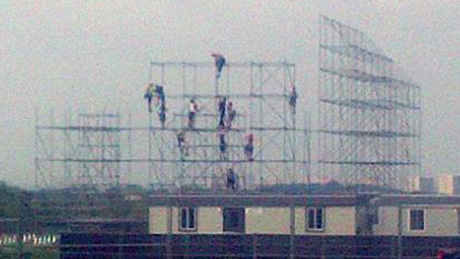 Crew setting up the stage for the Radiohead concert in Toronto (source Facebook)
While no liability has been identified to date in any of these two incidents, they do remind us of the importance to put in place occupational health and safety best practices. The Canadian Institute for Theatre Technology (CITT), its members, and sister organizations have contributed significantly in identifying and promoting such best practices.
 Outcomes have included: the charts and competencies profiles for stage technicians and riggers, theatre safety guidelines drafted in Ontario (Safety Guidelines) , Alberta (Safe Stages) and Québec (Guide de prevention). Elsewhere, organisations such as ACTSAFE have worked on creating the Live Performance Electrical Certification for stage technicians in BC. The Entertainment Electrical Safety Committee of Ontario (EESCO) is committed to developing and maintaining safe electrical standards and working practices for the entertainment industry. PLASA has created the Entertainment Technician Certification Program (ETCP) and develops industry standard via its Technical Standard Program including the ANSI E1.21-2006 – Temporary Ground-Supported Overhead Structures Used To Cover Stage Areas and Support Equipment in the Production of Outdoor Entertainment Events, to name a few.
Health and safety should never be compromised for the sake of the "show must go on". That was the degree of commitment of the head rigger on a ZZ Top tour, who took the decision to cancel a show due to stage safety concerns in Alabama on June 9. Related link: Safety and Health in the Theater: Keeping Tragedy out of the Comedies…and Musicals…and Dramas 
No doubt that safety will be top of mind for festivals organizers and CITT Rendez-vous participants this summer.
Source: All Access Volume 4 Issue 7 CAPACOA, written in collaboration with CITT.
---
GO TO ALL NEWS →
GO TO RECENT FORUM POSTINGS →
GO TO RESOURCE HUB →