What's New > HG Lighting Design Makes Second Annual Pledge-a-Service Donation
November 21, 2018
Lighting Designer Herrick Goldman, principal of HG Lighting Design and Evoke Collaborative recently presented the Behind the Scenes charity with a $1,000 donation representing a portion of the firm's design fees over the last year. HG Lighting Design was the first company to pledge a service, rather than a product, to Behind the Scenes and this donation marked HGLD's second annual check presentation.
HG Lighting Design provides lighting services for a wide variety of markets including theater, dance, and corporate events, as well as permanent installations for museums and other venues. Goldman, who designs all around the globe, has long been a supporter of the Behind the Scenes charity. Herrick says "Our industry is filled with so many wonderful people, it's a pleasure to be able to support our family members in times of need. In late 2018 HGLD is launching Evoke Collaborative. The Evoke team represents a broad array of talented artists with experience in diverse disciplines, adding value through long-established relationships in the lighting, video, and design industry. We look forward to continuing and expanding our philanthropy as our business grows."
Upon receiving the check, BTS Foundation Board member, Tobin Neis, commented, "Herrick and HG Lighting Design have set an incredible example for the design community. Everyone in the industry can make a difference to their colleagues in need, and doing so by committing your creative ideas to those who bring them to life can be especially gratifying. We hope others in the design community will follow their lead."
Behind the Scenes provides entertainment technology professionals who are seriously ill or injured with grants that may be used for basic living and medical expenses. For more information about Behind the Scenes, to donate, or to apply for a grant, visit www.behindthescenescharity.org. For more information about the Pledge-a-Service Program please contact .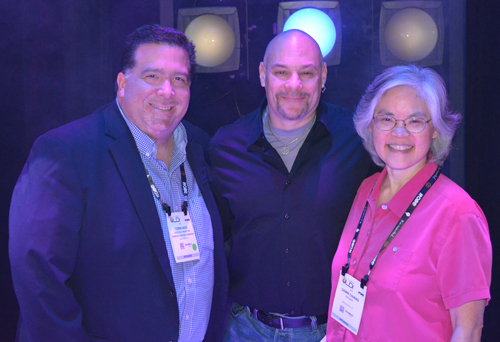 Herrick Goldman (center), principal of HG Lighting Design, with Behind the Scenes Foundation Board members Tobin Neis and Dawn Chiang.
---
GO TO ALL NEWS →
GO TO RECENT FORUM POSTINGS →
GO TO RESOURCE HUB →