What's New > ETC's iRFR and aRFR Apps – It's All About Helping People
October 22, 2018
NEWS RELEASE
FOR IMMEDIATE RELEASE
October 19, 2018
Continuing their unmatched generosity to entertainment technology professionals, ETC presented Behind the Scenes with a check today for $18,567.19, representing the most recent proceeds from the company's iRFR and aRFR Radio Focus Remote applications. Since the launch of the iRFR in 2009, ETC's mobile app sales have now generated over $350,000 in donations. This has kept hundreds of individuals from losing their homes or having their utilities turned off, it has purchased medications or ensured continuing medical treatment. Simply put, it has been a lifeline of help and hope to our colleagues during their darkest times.
The iRFR and aRFR mobile apps enable convenient, touchscreen-based remote control for Eos® family consoles and controllers. You can learn more about the apps from the ETC website and download them from the iTunes or Google Play stores. 
Fed Foster, ETC's CEO, commented, "Over the years, it has become clear that this industry draws in great people that truly feel like family. We are honored to be part of an industry where the whole spectrum of professionals, from technicians to designers to manufacturers, are so willing to contribute to BTS's mission to support our colleagues in need."
Upon accepting the check, Rick Rudolph, Chair of the BTS Board of Directors, expressed the Foundation's deep gratitude for ETC's ongoing commitment to its mission, "ETC's employees and customers should be enormously proud of what they are doing. At a time when feeding profits seems to be the motivating force for so many, ETC reminds us that this industry would not exist without the people who work so hard to bring the magic of entertainment to life and that we need to take care of each other."
Members of the Foundation Board of Directors also updated Fred Foster about the recent scholarship awarded in his honor. The Fred Foster Scholarships help children of grant recipients continue their educations despite their families' financial hardships. In Maddy's case, she lost both her parents in quick succession, leaving her alone and in danger of forfeiting her dream of finishing her degree. Maddy wrote, "Both my mom and dad were very passionate members of the film industry. After their sudden and tragic loss, I decided to throw my energy into helping others as a school psychology graduate student. This gift will help ease my financial burden and help me continue to patch my life together. Thank you dearly for your kindness."
The Behind the Scenes charity provides entertainment technology professionals who are seriously ill or injured with grants that may be used for basic living and medical expenses. For more information about Behind the Scenes, to donate, or to apply for a grant, visit www.behindthescenescharity.org. For more information about the Pledge-of-Support Program please contact info@behindthescenescharity.org.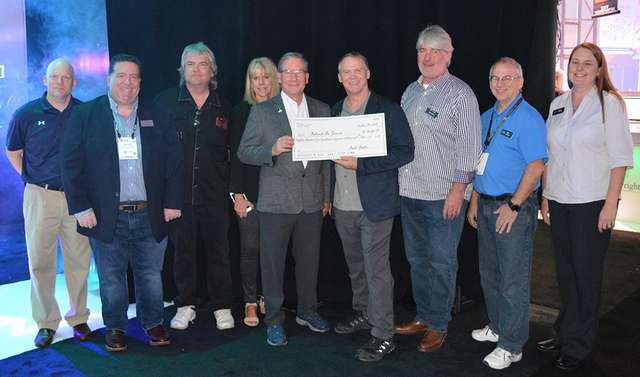 Caption for attached photo: David Lincecum, Vice President of Marketing for ETC (4th from right), presents a check to Behind the Scene Foundation Chair Rick Rudolph (5th from right) joined by ETC staff and members of the Behind the Scenes Foundation Board of Directors.
---