What's New > CITT Ontario in Ottawa for workshop and corporate showcase
January 21, 2013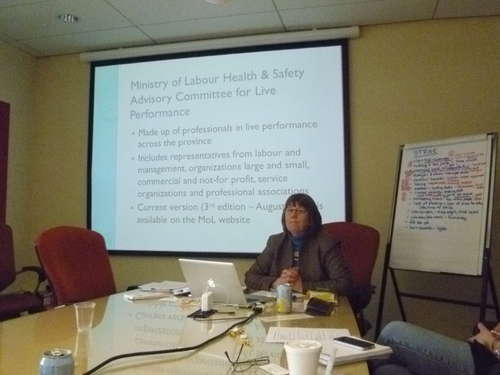 Janet Sellery during her Theatre Health and Safety workshop at the Shenkman Centre
The CITT Ontario Section's Theatre Health and Safety Workshop with Janet Sellery, followed by the Corporate Showcase held in Ottawa was a success. Over 40 attendees visit the showcase, which featured ACT Lighting, CETEC Group, Christie Lites, EESCO, Gerr Audio, Janet Sellery Health & Safety, PAG Canada, PRG, Roland Systems, Rosco, Technically Yours Inc., Solotech and TMB.
CITT Ontario thanks the Corporate Members for their support and to all those who attended. A special thank you to Sean, Thomas and the staff at the Shenkman Centre for their help. We hope to see you next year!
Post CITT Ontario Corporate Showcase in Ottawa on Tuesday January 8: 
a toast in honour of our friend Al Anderson, fittingly with scotch
Dewars, you'll understand the significance if you knew Al.
Appropriately just after we toasted, the bar lights flickered oddly
and then the bartender dropped a glass on the floor...
Thanks Al :) Happy Sailing, Rest in Peace.

 

 
 
 
---
GO TO ALL NEWS →
GO TO RECENT FORUM POSTINGS →
GO TO RESOURCE HUB →