What's New > CITT Alberta's Video Wizardry Workshop a huge success!
January 21, 2013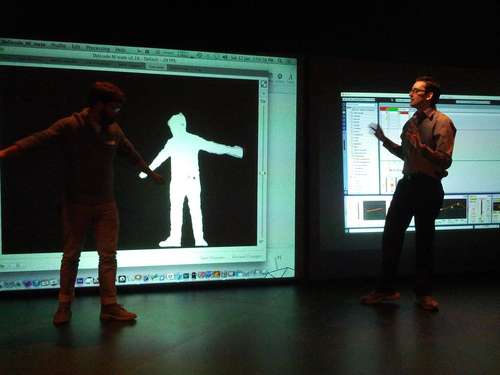 Photo from humblewonder on Twitter
Over 40 people attended the Video Wizardry Reveal workshop presented by the CITT Alberta Section with the support of the University of Alberta on January 12. Comments, photos and video popped up on social media throughout the day. 
CITT's Past President Adam Mitchell was one of the attendee and here is what he had to say about the workshop: 
To Gerry van Hezewyk, David Prestley and Mel Geary: Thank you once again for your support in hosting an exciting and quite amazing workshop this weekend. I thought that the schedule, flow and content were exactly as they should have been, and I believe that everyone who came (student, technician, educator, and artistic practitioner alike) were engaged and found appropriate content to take away.
I was particularly pleased with the level of instruction and expertise. I dropped in on everyone's session for at least a moment or two, and on numerous occasions thought that the level of presentation was as strong as the best sessions that I have attended over the years. Congratulations, and thank you Mel, for taking such a leading role in the development of these sessions.
I am ecstatic with the turn out, and believe that more events like this will strengthen the technical community as a whole. Without the support of partner organizations like the University, these opportunities would be lost. I hope that we can use the success of this weekend to spur on other events in the future.
Thank you again.
Adam Mitchell
Production and Facilities Manager | Cultural Services
City of St. Albert
Kudos to everyone for putting on such a great event and we hope to present a similar workshop at the CITT's Rendez-vous 2013 next August in Calgary! 
Photos: Adam Mitchell

 

 

 
---
GO TO ALL NEWS →
GO TO RECENT FORUM POSTINGS →
GO TO RESOURCE HUB →