What's New > CITT ANNOUNCES 2013 AWARD WINNERS
September 12, 2013
The Canadian Institute for Theatre Technology recognized three individuals and three corporations with the Annual CITT Awards presented at the awards banquet held on Saturday August 17, during Rendez-vous 2013 CITT's 23rd Annual Conference and Trade Show in Calgary, Alberta. These awards are designed to honour individuals and companies from a wide spectrum of the Canadian live performance community. The nomination of candidates for the CITT awards is driven directly by the membership with the final selection made by the Award Committee composed of the CITT Section Representatives, the Vice-President and either the Past President or President-Elect. The awards are handed out annually at the award banquet held during the CITT annual conference rendez-vous.
THE SUPPLIER (CORPORATE ACHIEVEMENT AWARD) is awarded to an individual, or a corporate entity, which have shown sustained commitment to providing excellent service or product(s), or both, to the Canadian cultural industries community. The 2013 award was presented to Thern Stage Equipment. In the niche market of manual fly systems, which has remained virtually stagnant for the last hundred years, Thern Stage Equipment has not only come up with a completely revolutionary product in the Brickhouse Arbor but a second equally revolutionary product Brickhouse Rope Lock.
 

From left to right: Tim Williamson from the Northern

Alberta Jubilee Auditorium, Tedd Morgan and Rick Boychuck

from Thern Stage Equipment and Richard Hansen from the

Southern Alberta Jubilee Auditorium

 
The Brickhouse Arbor is one of those designs that you look at and think "it's so obvious; why didn't someone come up with this years ago!" while, in fact, its simplicity hides the complexity of the challenges that they were able to overcome and the depth of the innovation involved in this revolutionary product. Of equal technical merit, the Brickhouse Rope Lock is another example of their "out of the box" thinking, taking a fresh new look at the old standard rope lock and coming up with a simple design concept that, again, hides the complexity. And the best part is that its operation is completely silent! The extraordinary thinking involved in these designs and their other products such as their "Weight Bench" for the loading gallery have revolutionized fly systems and brought many theatre with fly systems, including the Northern and Southern Jubilee Auditoria firmly into this century. Learn more about Thern Stage Equipment.
THE AWARD FOR TECHNICAL MERIT is awarded to a production company or Theatre, or a combination thereof, for outstanding achievement in the use of theatre technology on a specific project or production. The 2013 award was presented to Cavalia, a company based in Montreal, Quebec, Canada, that presents large-scale equestrian and performing arts productions. Its shows display expertise and innovation with cutting-edge technology, multimedia and special effects, along with equestrian and acrobatic performances such as Trick Riding, Vaulting, Haute École, Pas De Deux, and unbridled displays. Cavalia has produced two shows: Cavalia: A Magical Encounter Between Human and Horse, and Odysseo. Cavalia was created and is directed by Normand Latourelle. The large-scale multimedia performance his company delivers is often compared to Cirque du Soleil, of which he was one of the four original co-founders as well as Managing Director and Executive Vice-President from 1985 to 1990. Created in 2003 under the name of "Voltige", the very first show was held in Shawinigan, Quebec. The company's original production, Cavalia: A Magical Encounter Between Human and Horse, has been touring since then and has reached over 3 million spectators across North America and Europe through more than 1,800 performances (as of February 2012). In May 2009, the Government of Canada provided Cavalia Inc. with a $4-million loan to develop new productions and construct a horse-training facility in Sutton, Quebec. Cavalia's new show, Odysseo, premiered in October 2011.
Standing 38-meters tall, the White Big Top is a traffic stopping addition to the skyline of each city Odysseo visits. When visitors enter, they are immediately transported into a lavish and comfortable environment reminiscent of any permanent theatre. From their seats, the audience will become part of a truly immersive, three-dimensional experience as a state-of-the-art video screen, the size of three IMAX theatres, projects images that transport the viewer to a world of dreams. Beginning in a misty, enchanted forest where a herd of horses graze and frolic under a sky of rolling clouds and a setting sun, Odysseo travels to some of nature's greatest wonders. Without ever leaving their seats, the audience will see the desert and savanna of Africa, the American Southwest, the Northern Lights, an ice cave, verdant fields and Easter Island.
The Odysseo White Big Top is more than twice as big as the structure created for Cavalia's original production. The newest incarnation was designed in collaboration with the consultants at the Italian firm Canobbio, who also oversaw the construction. Asteo in France and Genivar in Canada supervised engineering operations. The arches that support the massive structure were built by Show Canada. We invite you to visit www.cavalia.net/en/odysseo to experience the uniqueness of this production company. 
THE HONORARY MEMBERSHIP AWARD is awarded to an individual or organisation not actively involved in the technical disciplines of the Canadian live performance industry, but who by virtue of their position has contributed significantly to the development of technical disciplines within Canada. This contribution can be seen through the recipient's decision-making, influence, and philosophy within the community or by showing themselves to be a longstanding friend of the Institute. The 2013 award was presented to Behind the Scenes,an initiative of The ESTA Foundation, which provides financial support to entertainment technology industry professionals when they are ill or injured. Individuals and organizations contribute money to the program, and Behind the Scenes provides grants for emergency situations. With this initiative, our industry can make sure our colleagues are cared for when tragedy strikes.
 

Bill Sapsis (left) from Behind the Scenes, with 

CITT Vice President Gerry van Hezewyk  

 
Many people in the entertainment technology industry lack health insurance and other financial support systems that are common for professionals in other fields. Behind the Scenes helps industry members and their families through crises, such as serious illness, injury or death by fitting each grant to the recipient's needs. Funds can be used for medical care and living expenses such as rent, mortgage, utilities, food, transportation and child care. 
Behind the Scenes is working to raise $5 million to create an endowment so our industry will be able to help our colleagues for many years into the future. Many CITT corporate members support and contribute to Behind the Scenes, such as: Electronic Theatre Controls, Lex Products Corp., Philips Strand Lighting, Rosco Laboratories, TMB, to name a few. 
Since May of 2006, Behind the Scenes has provided 31 grants to industry professionals or their surviving family members to assist in a variety of ways including: short term living expenses such as food, housing and utilities or assistance with medical bills, health insurance, physical therapy, and medications.
THE RON EPP MEMORIAL AWARD FOR PROFESSIONAL ACHIEVEMENT is awarded to an individual, in recognition of longstanding career achievement in a technical or related discipline within the Canadian live performance industry. The 2013 award was presented to Bill Heron.  Bill is the Technical Director at the Citadel Theatre in Edmonton, Alberta, and has been in this position since 1984. He is an invaluable member of the Citadel production department, leading the team to create the high quality work for which they are reputed. During his time at the Citadel, he has coordinated the technical elements for 27 seasons, including over 300 shows, nine International Children's Festivals, countless facilities rentals, four building renovations/renewals, and has worked under six different artistic leaderships.
Bill is the first to arrive and the last to leave at the end of the day. His dedication, talents, expertise and steady guidance towards the highest quality are evident throughout the Citadel. There is nothing in the building that does not have Bill's work in it somewhere. He is proud of the work his teams create and it shows in every project.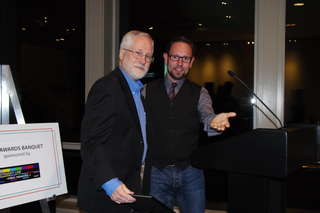 Bill Heron (left) with CITT Past President Adam Mitchell
The Citadel and greater Alberta theatre community have gained so much from Bill's leadership and commitment to quality, innovative technical solutions and safety. His legacy continues to be built and will remain for decades to come.
THE EDUCATION ACHIEVEMENT AWARD is awarded to an individual, in recognition of longstanding career achievement as an educator, and engaged in the teaching of a technical or related discipline, while preparing students for work within the Canadian live performance industry. The 2013 award was presented to Robert Eberle. With a strong background in technical theatre construction and design, Bob Eberle spent many years teaching Stage Management, Production Management, and Technical Theatre in The Department of Theatre and Film at UBC. During his tenure at UBC, Bob made it a priority to expose his students to real world opportunities in stagecraft.
| | |
| --- | --- |
| |   |
| Robert Eberle (left) with CITT President Norberts J. Muncs |   |
Through his active involvement in CITT and his many community connections, his students were able to gain experience at places like the Vancouver International Children's Festival, the Banff Centre for the Arts, CITT's Annual Conference & Trade Show, and numerous local theatre companies. Bob is known among his colleagues and former students as a mentor in the truest form – a trusted advisor, Bob made it his mission to foster growth within his students and strengthen the Canadian Theatre Community. 
THE DIETER PENZHORN MEMORIAL AWARD is awarded to an individual who has provided significant and sustained service to the Canadian Institute for Theatre Technology/Institut canadien des technologies scénographiques, while playing an active role in the development of the greater Canadian cultural community. The 2013 award was presented to James McKernan who,over the years, has provided significant and sustained service to the CITT/ICTS, while playing an active role in the development of the greater Canadian cultural community.
James is very much implicated with CITT: he has created the sustainability committee, the revival of the Eco-Scene website as part of an effort to making our theatres greener. He sits on the CITT Ontario Section Board and is the Section representative and very much pro-active with both the regional section and the national board. He has conducted many workshops on various topics at York University for the benefit of the theatre community and industry including: fog, sound, LEDs and flying performers. He has presented many sessions on sustainability at the CITT annual conference and for the Ontario section.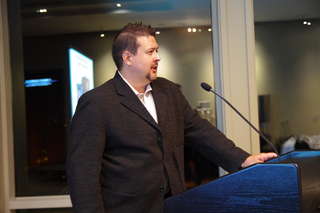 James McKernan, 2013 Dieter Penzhorn Memorial Award recipient
His enthusiasm and dedicated involvement in creating and setting up projects to serve both CITT and the Canadian live performing community are contagious. His 20-page CV is a testimony of all the accomplishments that James has achieved as a professional practitioner, a teacher and as a CITT member.
---
For more information about the CITT awards and the list of prior recipients, please visit our website at citt.org/citt_awards.html
Deadline to submit nominations for the 2014 Annual CITT Awards is March 30th 2014.
Source and for photos, please contact Monique Corbeil, CITT National Coordinator at 613 482-1165 or info@citt.org
---
GO TO ALL NEWS →
GO TO RECENT FORUM POSTINGS →
GO TO RESOURCE HUB →