What's New > Black Canadian Theatre Leadership: Embracing transformation and adaptation (Walker Cultural Leader Series)
Black Canadian Theatre Leadership: Embracing transformation and adaptation (Walker Cultural Leader Series)
September 16, 2021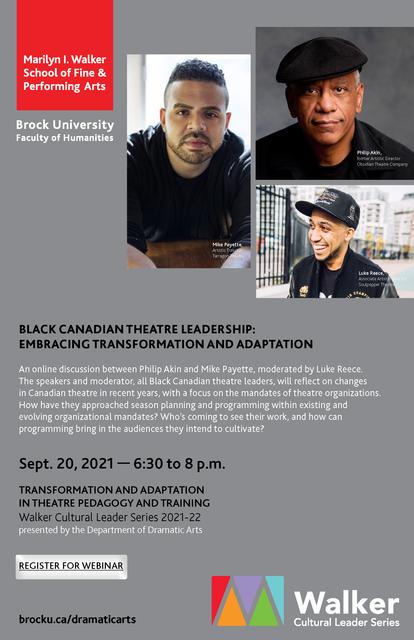 The Department of Dramatic Arts (DART) invites you to the first online presentation of Transformation and Adaptation in Theatre Pedagogy and Training, a new series presented as part of the 2021-22 Walker Cultural Leaders Series:
BLACK CANADIAN THEATRE LEADERSHIP: EMBRACING TRANSFORMATION AND ADAPTATION
When: Sept. 20, 2021 — 6:30 to 8 p.m. ET
An online discussion between Philip Akin and Mike Payette, moderated by Luke Reece.
The speakers and moderator, all Black Canadian theatre leaders, will reflect on changes in Canadian theatre in recent years, with a focus on the mandates of theatre organizations.
How have they approached season planning and programming within existing and evolving organizational mandates? Who's coming to see their work, and how can programming bring in the audiences they intend to cultivate?
Please direct any questions to miwsfpa@brocku.ca.
Programmed and organized by Karen Fricker, Carolyn Mackenzie and David Vivian, of the Department of Dramatic Arts at Brock University.
---
GO TO ALL NEWS →
GO TO RECENT FORUM POSTINGS →
GO TO RESOURCE HUB →