What's New > Basic Income and the Arts Webinar and #mymonthlybudget
August 12, 2020
The recording of the webinar is now available to view (including the embedded ASL translations), and you can see it at https://basicincomecalgary.ca/basic-income-for-the-arts/. Please share the video far and wide. Bonus points to those who get creative in their sharing!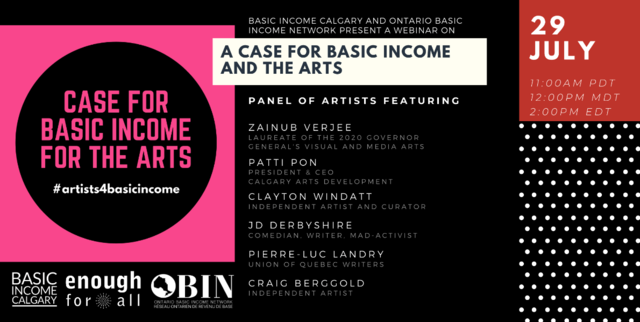 Pouvez-vous nous aider s'il vous plaît? We have had challenges providing acceptable francophone captioning, and we are looking for francophone Canadian volunteers to help us translate the video using the built in Youtube "Community Contributions" subtitle tool. If you are able to help us in offering francophone captioning, please click the three horizontal dots under the video, and click on "Add translations". Merci!
 
Slides
You can also find the slide deck in PDF format on our site, at:
https://basicincomecalgary.ca/basic-income-for-the-arts/
Feedback
If you attended the webinar and have not already done so, we would certainly appreciate your feedback. Feedback from our attendees helps to let us know if we are producing engaging and useful content that you want to experience. If the above link doesn't work, could can point your browser at: https://forms.gle/vAdxi55qHHuaD9pRA
Did you know? 
• Per capita, more Albertans applied for #CERB than any other province. 
• Nearly 1 in 4 Albertans applied for CERB (as of Aug 1) and it will soon come to an end.
• A universal basic income is more important now than ever.
Join us on social media with the #mymonthlybudget hashtag as Albertan's share their stories of how far their CERB goes. Basic income is the right next step.
Thank you again for your interest in Basic Income! If you're not already following Basic Income Calgary online, you can find us at:
Twitter - 
Facebook - LinkedIn - Instagram
You can also follow the great folks at the Ontario Basic Income Network at https://www.obin.ca/.
 
All our best,
Kurt Archer, 
Basic Income Calgary
---
GO TO ALL NEWS →
GO TO RECENT FORUM POSTINGS →
GO TO RESOURCE HUB →