The Honorary Membership Award - 2002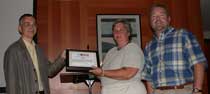 Excerpt from the text announcing the award to USITT which was read at the awards ceremony:
"This award is presented to an individual and/or organisation not actively involved in the technical disciplines of the Canadian live performance industry, but who by virtue of their position has contributed significantly to the development of technical disciplines within Canada. This contribution can be seen through the recipient's decision-making, influence, and philosophy within the community or by showing themselves to be a longstanding friend of the Institute.
Much of CITT's current success is due to the steadfast support of USITT in the early days of CITT's creation. Still today, all of CITT's Sections are also sections of USITT and continue to receive support as such.
USITT made available the strength of its impressive organisation to assist CITT in its growth and development until the day, very recently, when the younger brother was strong enough to run on his own. USITT's support of CITT has been both structural but also monetary and this assistance came in the most difficult times for CITT. It was the kind of help you can only expect from family.
USITT has been a cornerstone in the growth and development of CITT. Without the assistance of USITT, our organisation could have vanished many times over the years.
We are now a stronger organisation thanks to their unquestioning support. For this, USITT deserves our deepest gratitude and the honour of joining us as lifetime Honorary Members. With this Award, we wish to confirm to USITT our friendship and thanks."
The award was accepted by Helen Willard and Normand Bouchard on behalf of USITT.