What's New > CITT ANNOUNCES 2010 AWARD WINNERS
August 29, 2010
Ottawa, ON -- The Canadian Institute for Theatre Technology recognized four individuals and two corporations with the Annual CITT Awards presented at the award banquet on Saturday August 14, during Rendez-vous 2010: 20th Annual CITT Conference and Trade Show in Halifax, Nova Scotia. These awards are designed to honour individuals and companies from a wide spectrum of the Canadian live performance community. The nomination of candidates for the CITT awards is driven directly by the membership with the final selection made by the Award Committee composed of the CITT Section Representatives, the Vice-President and either the Past President or President-Elect. The awards are handed out annually at the award banquet held during the CITT annual conference.
The Dieter Penzhorn Memorial Award – Awarded to an Individual who has provided significant and sustained service to the Canadian Institute for Theatre Technology/Institut canadien des technologies scénographiques, while playing an active role in the development of the greater Canadian cultural community. The award was presented to Bob Johnston, for his tenure as President of CITT from 2006 to 2009 and for bringing to CITT a corporate savoir-faire that helps shaped the organisation during its transitional period. He demonstrated a passion to move the organisation forward, and some of the accomplishments under his tenure include a financial stability, a thriving communication committee that undertook a communication audit and the design of new bilingual website, as well as an increase of corporate support and awareness.
In spite of his very busy professional life, Bob took to heart his role as president and made himself available as much as he could to both the organisation and its membership. He took advantage of his business trips across the country to visit with members as much as he could. He humbly learned to better understanding the uniqueness of a not-for-profit structure while dispensing great wealth of management and people-skill knowledge to the board and staff. To this day, the organisation incorporates many of his wisdom in its day-to-day operation and strategic planning. He remains a source of inspiration and CITT will continue to benefit from his knowledge and experience.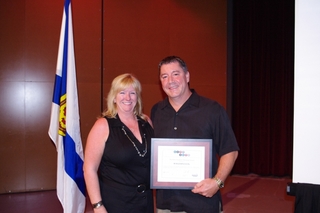 Bob Johnston, recipient of the Dieter Penzhorn Memorial Award. with his wife Karen.
The Ron Epp Memorial Award for Professional Achievement – Awarded to an individual, in recognition of longstanding career achievement in a technical or related discipline within the Canadian live performance industry. The award was presented to Tony Physentzou, who has been involved in the Canadian Theatrical industry since coming over from Europe in 1968. Starting off as a young IATSE member, Tony's impressive resume includes working for Strand Century; aiding in the set up of Canadian Staging Projects; starting up and being part owner of Sapphire Staging; and since 1987, founder and owner of Ontario Staging Limited; a manufacturer and supplier of theatrical soft goods to Arts and Entertainment industry.
Having served over 40 years in this industry, Tony has been instrumental in creating and implementing the high standards of quality and safety used today in Rigging and Draperies as well as been involved with the introduction of CSA approved standards for wiring of electrical distribution. Tony was one of the original founding members of CITT and his involvement and passion to further the development of the Theatre industry in Canada has been felt by the many he has come in contact with.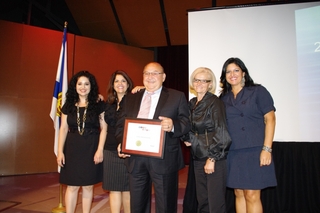 Tony Physentzou and his wife Dora, surrounded by their three daughters, from left to right: Cynthia, Maria, and Georgina.
The Education Achievement Award – Awarded to an individual, in recognition of longstanding career achievement as an educator, and engaged in the teaching of a technical or related discipline, while preparing students for work within the Canadian live performance industry. The award was presented to Alan Welch, of the University of Alberta Department of Drama. Among Al's key accomplishments in his three decades with the department are:
The development of a set of exceptional training facilities- widely considered to be among the best on the continent.
The creation of a Production Program, which includes the only BFA Specialization in Stage Management in the country.
The assembly of a formidable staff comprising of many of the region's foremost production specialists.
A consistently high caliber of public presentations as presented by the graduating classes.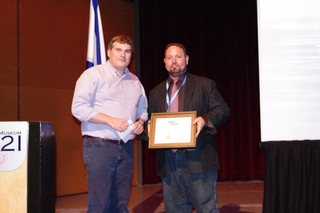 Gerry van Hezewyk, at right receiving the award on behalf of Alan Welch from CITT President Adam Mitchell.
The Supplier (Corporate) Achievement Award – Awarded to an individual or corporate entity who have shown sustained commitment to providing excellent service or product(s) or both to the Canadian cultural industries community. The award was presented to Sennheiser Canada, an audio company highly respected throughout the industry and renowned worldwide for the quality of their products and services. In Canada, Sennheiser has always been a key player in supporting CITT and providing top-notch service to its members.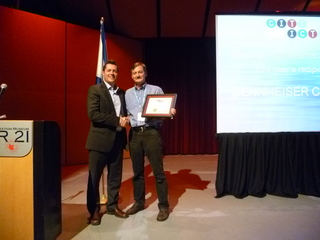 Frédérick Girard (at left) of Sennheiser Canada receiving the award from Victor Svenningson.
The Award of Technical Merit – Awarded to a production company or Theatre, or a combination thereof, for outstanding achievement in the use of theatre technology on a specific project or production. The award was presented to Royal Nova Scotia International Tattoo. For 31 years, the Royal Nova Scotia International Tattoo has entertained thousands of people earning it the label of the Worlds Largest Annual Indoor Show. The Tattoo began in 1979 as a gala to welcome HM Queen Elizabeth the Queen Mother to the International Gathering of the Clans in Halifax. It was such a great success, that it became an annual tradition, growing from that one show to 8 shows every year from July 1-8 and to a cast of over 2000 combining civilian performers (singers, musicians, dancers & gymnasts) from all over the world with military bands, drill teams and of course bagpipes.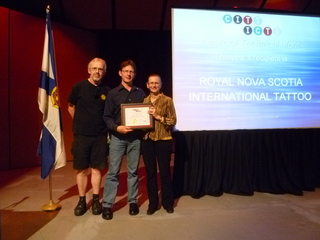 Sean Burke (at left) and Debbie Richardson (at right) handing the award to Colin Richardson, Technical Director of Royal Nova Scotia International Tattoo.
The Honorary Membership – Awarded to an individual or organisation not actively involved in the technical disciplines of the Canadian live performance industry, but who by virtue of their position has contributed significantly to the development of technical disciplines within Canada. This contribution can be seen through the recipient's decision-making, influence, and philosophy within the community or by showing themselves to be a longstanding friend of the Institute. The award was presented to Francis Reid, for his influence on the past generation of Canadian theatre practice.
While based in the UK, Francis has enjoyed an astounding international career over the past fifty years in roles as lighting designer, theatre manager, and pioneering consultant on lighting technology and venue design. His passion as both educator and author is evident through the abundance of publications he has penned, as well as by his distinguished teaching résumé, which spans several renowned theatre training institutions across several continents. A great many of those who did not receive the direct benefit of his tutelage will have been 'enlightened' by his quintessential text 'The Stage Lighting Handbook'. His ties to the development of Canadian theatre professionals is most significant, considering that the most contiguous tenure of his career was his role as a visiting lecturer at the National Theatre School of Canada that spanned nearly thirty years -hence influencing hundreds of current professionals. Many of his students have become regarded educators in their own right. This has ensured that the principles he established will continue to influence future generations of Canadian theatre practitioners.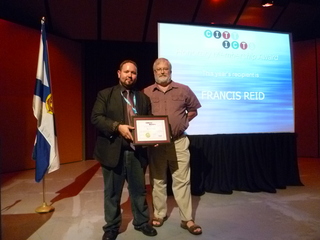 Norberts J. Muncs (at right) accepts the award from CITT president Adam Mitchell on behalf of Francis Reid, who was unable to attend the banquet.
Deadline to submit nominations for the 2011 Annual CITT Awards is March 30th 2011.
---
GO TO ALL NEWS →
GO TO RECENT FORUM POSTINGS →
GO TO RESOURCE HUB →