Bergmann, Michael F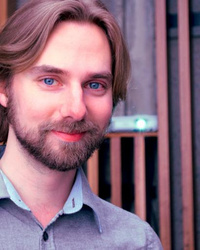 Michael F Bergmann
Membership Category: (no permission to view this data)
Regional Affiliation or Section: Ontario Section
Disciplines: Education; Video; Design
Michael enjoys exploring projections with an optimistic eye towards technology. He is based in his native city of Toronto and is a member of the faculty at Ryerson University's School of Performance, where he teaches and is writing curriculum to integrate projection and digital tools into the program. His research explores in the role of new technologies in live art and storytelling through his lab, TRiPL (Technological Research in Performance Lab).
Some interesting projects:
Theatre: Crossing Borders and 291 (Parodos Festival), He Left Quietly (Toronto SummerWorks, Best Production Award), Accidental Death of an Anarchist (Berkeley Repertory Theatre / Yale Repertory Theatre). Assistant design on Newsies: The First National Tour (Disney Theatrical, Designer: Daniel Brodie). Dance: Work with Grisha Coleman (echo::system), Heidi Strauss (YET) ongoing collaborations with Belinda McGuire Dance Projects, including Slaughterhouse/Requiem (Harbourfront NextSteps). Installations: On Guard and Water Closeted (Yale University Art Gallery). Film: In-camera VFX (Projection) for Nuptials (2019).
He has specialised in working with media server systems for large scale corporate events through his work with WorldStage. During his time based out of their San Francisco Lab, he worked on events across the USA and Macau for clients such as Wynn, NBC Studios, Intel, and Nokia Bell Labs.
He is a member of the Associated Designers of Canada and was an Eldon Elder fellow at the Yale School of Drama, where he received his MFA in Design.
bergarts.com
ryerson.ca/performance/about/faculty/michael-f-bergmann/

twitter.com/mfbergmann


facebook.com/mfbergmann


https://www.linkedin.com/in/mfbergmann