Bergmann, Michael F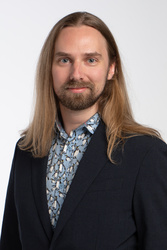 Michael F Bergmann
Membership Category: (no permission to view this data)
Regional Affiliation or Section: Ontario Section
Disciplines: Education; Design; Video
Michael is a techno-optimist and enjoys exploring new approaches to storytelling by mixing theatre, dance, installations, robots, video games, virtual and augmented reality, and exploration of the metaverse.
His physical being is mostly located in Toronto and is a faculty member in Performance at The Creative School, where he teaches and conducts research through his lab, TRiPL (Technological Research in Performance Lab).
His creative work spans theatre, dance, and installation art, emphasizing merging approaches through a technological lens. Before the Creative School, he worked in industry at the San Francisco research and development lab for Worldstage, innovating approaches to corporate performance and industrial events across the USA and Macau for clients such as Wynn, NBC Studios, Intel, and Nokia Bell Labs.
Within the theatrical world, he has designed for such shows as He Left Quietly (Toronto SummerWorks, Best Production Award) and Accidental Death of an Anarchist (Berkeley Repertory Theatre / Yale Repertory Theatre). He served as assistant projection designer on Newsies: The First National Tour (Disney Theatrical, Designer: Daniel Brodie) and In a Year With 13 Moons (Yale Repertory Theatre, Designer: Peter Nigrini).
Michael received his MFA in Design from the David Geffen School of Drama at Yale University and held an Eldon Elder fellowship there. They are a member of IATSE Local ADC 659, external link and continue to design when possible. Michael is a founding member of Synectic Assembly, an arts collective for projects organized in response to questions about artificial intelligence and algorithmic culture.

twitter.com/mfbergmann


https://www.linkedin.com/in/mfbergmann