CITT/ICTS Rendez-vous 2020 becomes virtual
August 17 - 20, 2020
This year, Rendez-vous is presented on a Pay What You Can basis. We recognize the enormous effect on the production industry of the COVID-19 virus and the associated loss of work many of our members are experiencing, and as such we have given a number of options for payment, including $0. We want everyone to be able to experience Rendez-vous. Please select the amount that reflects what you can comfortably afford at this time.
Easy registration process:
Step 1 - Select the Full Conference Pass of your choice from our Pay What You Can list below - .
Step 2 - Shortly after completing the registration and checkout process, : one that contains your invoice and a second one with the complete list of Zoom links to register individually to the conference activities.
Step 3 - Register for each activities you would like to attend and... voilà! you are set to enjoy our virtual Rendez-vous. See you online!
Any questions? Contact us at rendezvous@citt.org.
---
Interested in sponsoring Rendez-vous 2020?
Increase your visibility during the event while supporting CITT/ICTS's mission! Below is a list of available sponsorships to choose from. Each sponsorship provides online logo visibility during the selected event. You may choose from the list below or contact us for more information at rendezvous@citt.org. Thank you for supporting CITT/ICTS!
---
All prices are in Canadian dollars with applicable taxes based on your billing address.
Sponsorships are not subjected to taxes.
Click on the image to download the conference program.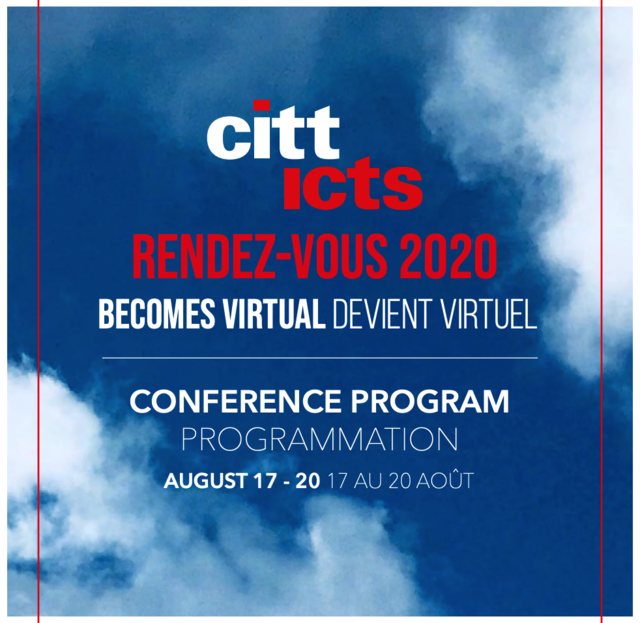 ---
RENDEZ-VOUS 2020 SCHEDULE


Click on the activity's link for the event description

All hours are Eastern Daylight Time

Monday August 17

12:00 p.m.

Conference Welcome and New Product Showcase hosted by Matt Frankish - 90 min

New Product Showcase is sponsored by 

2:00 p.m.

Acoustic Design of Canadian Performing Arts Centres with John O'Keefe - 60 min

3:30 p.m.

Better than a 20' Pole: Controlling your lights remotely with Erin Giblin, ETC - 60 min

Immersive Tools In Theatre Sound Design: An Introduction to Spacemap GO with Michael Laird - 90 min

5:00 p.m. 

Using SketchUp to build venues for ArrayCalc with Trevor Nash - d&b - 60 min

Wireless Mic Spectrum with Colin Bernard - Lectrosonics Canada - 60 min

7:00 p.m.

Women+ of the Backstage Roundtable hosted by Emma Alderman - 60 min

Sponsored by  

Tuesday August 18

12:00 p.m.

Mind the Gap: Models of Mentorship in Management with Janelle Rainville - PMArts + TDArts - 90 min

2:00 p.m.

Theatre Specific Features for your Everyday Mix with Dan Page - DiGiCo - 60 min

3:30 p.m.

The Soundscape Fundamentals and System Design using ArrayCalc with Trevor Nash - d&b - 60 min

5:00 p.m.

Augmented ARRAY and the latest technology on arrays with Trevor Nash - d&b - 60 min

Fire Safety and Your Drapes, Are You Prepared? with Brad Davies - 60 min

7:00 p.m.

Education Roundtable hosted by Scott Martin - 60 min

Sponsored by  

Wednesday August 19

12:00 p.m.

Grand Theatre Rigging Renovation with Rick Boychuk & Paul Fujimoto-Pihl - 90 min

Sponsored by  

2:00 p.m.

4:30 p.m.

CITT/ICTS 2020 Virtual Annual General Meeting - 90 min

Sponsored by University of Toronto and Sheridan College, Theatre and Drama Studies Program  

7:00 p.m.

Sponsored by  

Thursday August 20

12:00 p.m.

Hiring for Diversity with Alyson Colón, Cheryl Batulis, Sedina Fiati, Autumn Coppaway, Rachel Forbes & Shanna Miller - 90 min

2:00 p.m.

Snap, Crackle, Pop! Manage & Monitor your Onstage RF Audio with Timo Liski - Wavetool - 60 min

3:30 p.m.

5:00 p.m.

Tom Patterson Theatre Tour with Greg Dougherty, Stratford Festival - 60 min 

7:00 p.m.

TD Roundtable hosted by Matt Frankish - 60 min

Sponsored by Moose Rigging