2020 Event Safety Summit (Virtual) - The New Abnormal
December 7 - 11, 2020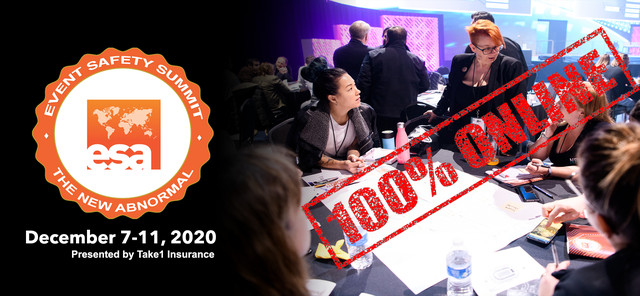 As a result of the 'New Abnormal' we've been living through since March, health and safety is more in the spotlight than ever before.  Issues we thought we understood have been complicated by the need for social distancing, face coverings, and new sanitary standards.  Once we figure out how to reopen safely, the issue of economic viability must be addressed. This is on top of the usual concerns such as crowd management, production safety, employee training, contracts, and insurance. While most of us wait for our opportunity to return, the time to start preparing is NOW.
Since we cannot physically be together, this year's Event Safety Summit will be held entirely online.  And since there is so much to discuss, we have scheduled an entire week of conversations with subject matter experts, including opportunities to chat with them directly.  
The program features more than two dozen sessions, live Q&A with presenters, virtual networking opportunities, an exhibitor area, and more. Best of all, you won't have to miss a moment because all sessions will be accessible for 30 days after the event, so you can catch up on the action at a time that is right for you.
Registration for this five-day virtual event is just $99 for ESA members, $125 for non-members (US$). Members will also receive year-round access to the Summit content and an exclusive discounted rate for our (hopefully live) 2021 Event Safety Summit.
REGISTRATION AND PROGRAM AGENDA (SUBJECT TO CHANGE)