What's New > Roscolux #359 Celebrates 10 Years of Supporting Industry Professionals Who Are Ill or Injured
November 27, 2018
NEWS RELEASE
FOR IMMEDIATE RELEASE
November 27, 2018
Ten years ago, Rosco Laboratories became Behind the Scenes' first Pledge-a-Product Partner and Mark Engel, Rosco CEO, and staff members recently presented their 10th annual check from the sales of Roscolux #359 Medium Violet bringing the total donated to over $32,500. 
"It is our privilege to support Behind the Scenes Foundation, and we are proud to have reached a decade of giving to an organization that passionately provides help to those in need from the entertainment technology industry," said Engel. "This year we are pleased to contribute $3,000 from the proceeds of Roscolux 359 Medium Violet and we express our gratitude to Behind the Scenes for the support and services they offer to industry professionals and their families."
Rick Rudolph, Chair of the Behind the Scenes Foundation, accepted the check saying, "Rosco led the way as our first corporate partner and a number of companies have followed in their footsteps, making our Pledge-of-Support Program a key source of the funds that are used to help our colleagues in need. Rosco understood that having a long-term commitment from our industry partners would allow us to plan ahead and to expand our services and we are extremely grateful to them for their foresight."
The Behind the Scenes charity provides entertainment technology industry professionals who are ill or injured with grants that may be used for basic living and medical expenses. For more information about Behind the Scenes, to donate, or to apply for a grant, visit www.behindthescenescharity.org. For information about becoming a Behind the Scenes Pledge-a-Product Partner email info@behindthescenescharity.org.
###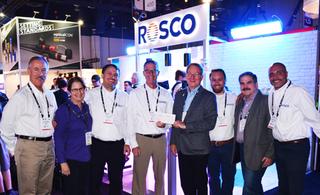 Photo ID: Mark Engel (4th from left), CEO, and Rosco staff members, present a check from sales of Roscolux #359 Medium Violet to Behind the Scenes Chair Rick Rudolph (4th from right) and other members of the BTS Board.
---
GO TO ALL NEWS →
GO TO RECENT FORUM POSTINGS →
GO TO RESOURCE HUB →