What's New > PLASA International Rigging Conference Speakers Confirmed
PLASA International Rigging Conference Speakers Confirmed
Early booking discount runs to 18 June 2010
June 8, 2010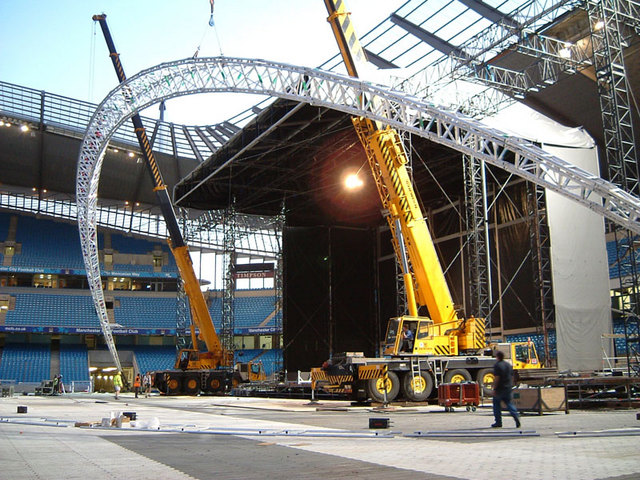 The finalised programme for the first
PLASA International Rigging Conference
- taking place on 13-14 September at Earls Court - has been announced.
Running alongside the established international trade show, PLASA 2010, this unique event is the first of its kind for the event and entertainment rigging community and promises to be an invaluable industry forum.
Unusual Rigging's Alan Jacobi, Star Events Group's Roger Barrett, Prolyte's Marc Hendriks, CM ET's Cristiano Giavedoni and Sapsis Rigging's Bill Sapsis are among the line-up of international speakers confirmed.
Bill Sapsis of Sapsis Rigging in Philadelphia comments: "In the past 10 years alone, the event and entertainment rigging industry has experienced incredible growth and change. The PLASA International Rigging Conference offers a unique opportunity to meet with colleagues and peers from across the world to discuss the challenges facing us all."
Alongside these speakers will be a host of global rigging experts, talking openly about their pivotal roles in the development of the international rigging industry and the challenges this sector faces into the future. The conference will be a platform for airing questions and concerns, discussing key issues, the sharing of knowledge and the opportunity to debate and dispel myths.
Chris Higgs of Total Solutions Group, conference consultant, added: "In the first year we are trying to introduce the opportunity for riggers and people connected with event and entertainment rigging to discuss common issues. From the day the website launched there was an enormous response from people wanting, even demanding, to be involved and we've had to enhance the programme several times to accommodate the level of interest demonstrated. We couldn't have asked for a better response; this is something the rigging industry has been talking about doing for a long time and the support received to date reflects that desire."
Focusing specifically on event and entertainment rigging and working at height for temporary installations, the two day conference will not only feature presentations, but also live practical demonstrations and will encourage interactive question and answer sessions from delegates.
The full conference programme and delegate booking details can be found at
www.plasariggingconference.com
As the event is to be hosted alongside PLASA 2010 at Earls Court, London, all delegate passes will include free admission for PLASA 2010.
If you are a freelance rigger there is a special 'book now/pay later' offer to enable you to secure your place but cancel it without penalty if you are unable to attend due to work commitments. To reserve your freelance rigger delegate place go to
www.plasariggingconference.com/freelance
The PLASA International Rigging Conference is the latest industry-specific forum to the presented by PLASA Events and reflects the PLASA organisation's stated intent to reinvest in the event, entertainment and installation technology industries and deliver bespoke events for the unique market sectors it serves.
---