WorkSmarts - Examining Unconscious Bias
February 17, 2021, 1:00 - 3:00 PM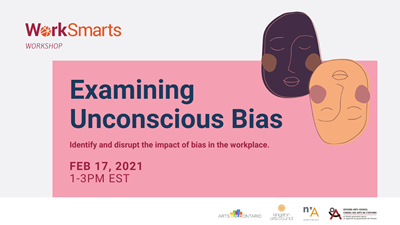 An interactive workshop on the topic of unconscious bias and its impact on employees, leadership, and the communities you serve.
About this Event
In this interactive session, participants will gain common vocabulary around equity and inclusion to serve as a primer on the topic of unconscious bias. They will develop an understanding of unconscious bias; what it is, how it manifests, and its impact on employees, leadership and on the communities you serve. Through instruction, activities and examples, participants will gain a deeper sense of the implications that bias and microaggressions have on the work culture of arts-based organizations.
Participants will gain valuable resources and dialogue to support their ongoing journey towards inclusive and equitable leadership. They will walk away with tools and resources to identify bias and disrupt the impact of bias in the workplace. With a focus on anti-oppressive practice, this hands-on workshop will focus on building knowledge around equity, diversity and inclusion, and capacity building within an organization. The goal is to develop skills to foster a more inclusive community for staff and clients.
Facilitated by: Sheliza Jamal
Sheliza Jamal is the founder of Curated Leadership, a coaching firm that fosters partnerships with leadership teams, nonprofits, and corporations to develop their knowledge in the areas of equity and diversity to build inclusive communities. As an Equity and Inclusion facilitator and Ontario certified educator, Sheliza brings over a decade of experience in designing and implementing training and development programs aimed at addressing inequitable outcomes for underserved communities. She has a background in arts education and often uses theatre-based techniques to develop embodied empathy to engage participants in dialogue about oppression. Sheliza uses a calling in approach to bring people together to listen and learn with empathy.
Participants are encouraged to access WorkInCulture's free online suite of diversity, equity, and inclusion resources tailored for the arts and culture workplace: Inclusion in the Creative Workplace in order to continue their learning beyond this workshop. The resources are free to use.