ETC Ion Xe console training SOLD OUT!
April 16 - 17, 2019
ETC and CITT/ICTS are pleased to offer 2 days of Ion Xe console training prior to the EXPO-SCÈNE show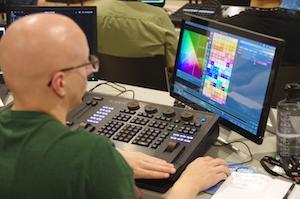 DATES
Tuesday, April 16, 2019  Level 1 Essentials *
Wednesday, April 17, 2019  Level 2 Enhanced *
* please note that the training has changed from Level 3 and 4 to Level 1 and 2. You can register for either one or both of these sessions, depending on your needs and experience level. 
Information and registration: SOLD OUT!
Location: Palais des congrès de Montréal, room 512d on the 5th floor. 
Number of participants: All classes are limited to 16 students and there will be 2 people per console. We will use Ion Xe consoles for the training.
Hours: Classes are from 9:00 a.m. to 5:00 p.m. on Tuesday and 9:00 a.m. to 5:00 p.m. on Wednesday. There will be an hour lunch break each day.
Registration fee:

CITT/ICTS members: $60.00 (US) per person (a code is required to sign up, contact support@citt.org to receive the code) 
Non-members: $80.00 (US) per person.
Instructor: Alyssa Elibott
---
DESCRIPTION
LEVEL 1 ESSENTIALS - 1 Day  
Are you new to the Eos family of consoles and ready to hit the ground running with your first show?  Learn all the basics you will need to get started in our Essentials class.  This class will give you a solid foundation with the Eos family of consoles and prepare you to grow your knowledge as you are ready. 
After completing the Level 1 class, you will be able to:
Identify key elements of the console user interface and navigation
Patch conventional and multi-parameter fixtures
Work with channels in Live mode
Record, select, and delete Groups
Record to, load, and clear Submasters
Record, play, and delete Cues
Understand Tracking and Block, cue timing, and Park
Manage show files (create new, save, save as)
Control non-intensity parameters at a basic level
Create simple step-based Effects
LEVEL 2 ENHANCED - 1 Day
Ready to move beyond the basics with your Eos family console?  Build the skills you need to take your programming to the next level. Going beyond our Level 1 training, this class will get you going with additional features and functions of your console and get you on your way to programming like a pro.
After completing the Level 2 class, you will be able to:
Edit device attributes
Understand display layouts and workspaces
Record and recall Snapshots
Create more elaborate Groups
Be more effective using Submaster properties
Record and recall Palettes and Presets
Use Direct Selects
Take advantage of Discrete Timing and Multipart cues
Understand and use Auto-Mark, Update and other cue attributes
Create and use Relative and Absolute Effects
Create and use a basic Magic Sheet