What's New > The 10th Theatre Architecture Competition
November 4, 2016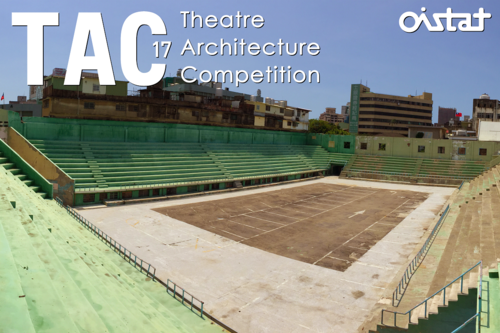 :: Key Dates of TAC 2017 ::

What is TAC?
The Theatre Architecture Competition (TAC), organised by OISTAT Architecture commission, is an international competition aimed at students and emerging architects and practitioners to showcase their innovation of future theatre architectures. 
TAC 2017 Theme - Theatre as Public Space

The purpose of the competition is to imagine how a different kind of temporary theatre environment could be created, which like theatre itself is ephemeral and is 'here today and gone tomorrow'. Shaped by an existing urban context, the challenge of the theatre design competition is not only to concentrate on the performance space(s) themselves, but to think how the theatre can engage with civic activities.

Selected entries will be exhibited and awarded in World Stage Design (WSD) at Taipei National University of the Arts from 1-9 July 2017.

TAC 2017 Site
The Public Activity Center, a disused sports stadium in Hsinchu City, Taiwan.

Find Out More >> Visit TAC2017 Official Website for detailed information & complete competition brief. Questions about TAC, please email archcom@oistat.org. 
---
GO TO ALL NEWS →
GO TO RECENT FORUM POSTINGS →
GO TO RESOURCE HUB →