What's New > PLASA AND ESTA ANNOUNCE INTENTION TO MERGE
PLASA AND ESTA ANNOUNCE INTENTION TO MERGE
Agreement will strengthen both organisations and create new opportunities
October 6, 2009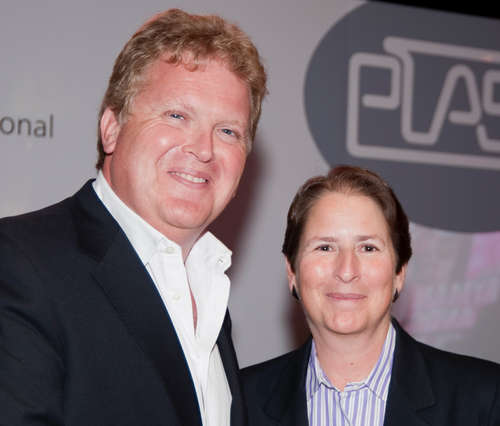 PLASA CEO Matthew Griffiths with ESTA Executive Director Lori Rubinstein (photo Chris Toulmin)
PLASA (headquartered in the UK) and ESTA (headquartered in North America), two of the leading bodies worldwide for those working in the live events, entertainment and communications industries, have signed a Letter of Intent to merge.
The announcement comes on the back of long-term strategic reviews conducted by both Associations who believe that uniting as one body will lead to a stronger voice for members, the enhancement of existing initiatives and an expansion of the range of benefits and services.
The proposed merger has the full backing of both the ESTA Board of Directors and the PLASA Executive Committee who voted on the proposal this Summer and who will formally recommend the move to their respective memberships, subject to due diligence being completed successfully, during the Spring/Summer of 2010. If both memberships vote to go ahead, the first stage of the merger will be completed by December 2010 effectively creating an industry-wide membership network of over 1100 dealers, manufacturers, installers, service providers and consultants operating under the PLASA name. This will also include members of PERA - the Production Equipment Rental Association - whose members work across the film, video and broadcast industries and which recently merged with ESTA.
In reality, any merger will simply be a continuation of an already established relationship between the two organisations who have worked together on a range of initiatives for many years and who share the same aims and objectives.
The planned merger will not lead to any immediate changes and the direct priority for the ESTA and PLASA teams will be to continue to serve the joint membership in the strongest, most relevant way possible.
To reinforce this aim, the proposal outlining the merger recommends that leadership groups be established initially in North America and Europe elected by their respective members to represent their interests and to shape the organisation to meet their specific needs. Each of these elected leadership groups will provide representatives who will sit on an Executive Committee charged with overall responsibility for governance, strategic planning and financial direction. Joining these representatives on the Executive Committee will be members-at-large elected from the membership worldwide.
Work on key initiatives will continue as before and in many cases will be considerably strengthened by the projected merger. ESTA's industry-leading Technical Standards Program has always received active participation from PLASA and its members and the planned merger envisions a further development of this essential project.
The commitment to furthering industry skills will also remain a key priority and while the methods of implementation differ, the goals of increasing the level of knowledge and skills in the industry and creating a safer working environment are jointly shared and will be fully implemented.
Other initiatives such as market research will be strengthened with current research exercises expanded and opportunities for additional research explored.
ESTA President Bill Groener and PLASA Chairman Rob Lingfield view the proposed merger as a significant and essential move for members of both organisations, who they believe will benefit from having a much strengthened representative body safeguarding their interests and developing their commercial advantages.
In a joint statement, PLASA CEO Matthew Griffiths and ESTA Executive Director Lori Rubinstein said: "This is essentially about doing what is best for our members. The proposed merger will radically enhance what we can achieve on behalf of the companies and individuals we represent, making us a more effective and informed advocate for the industry. The industry needs an organisation that is responsive to its members' needs and one where they feel fully connected and involved. We share common goals and objectives and a united approach to the issues and challenges of our market will provide major long-term benefits and greatly broaden the role of the organisation."
For further information contact:
Ruth Rossington
PLASA
E: ruth@plasa.org
Lori Rubinstein
ESTA
E: lrubinstein@esta.org
---
GO TO ALL NEWS →
GO TO RECENT FORUM POSTINGS →
GO TO RESOURCE HUB →