What's New > ETC LDI Student Sponsorship
March 26, 2013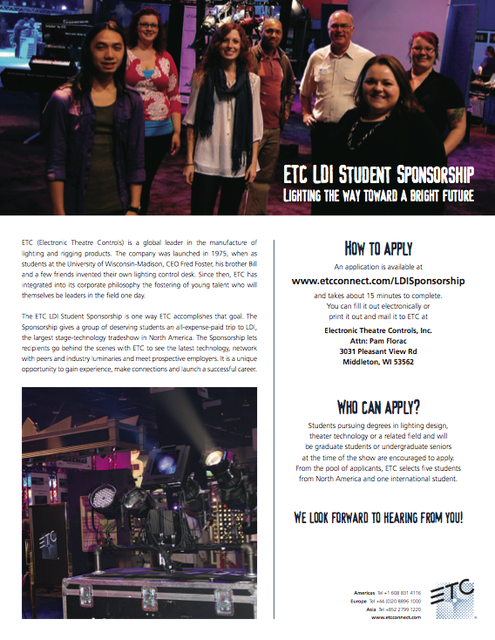 ETC (Electronic Theatre Controls) is a global leader in the manufacture of lighting and rigging products. The company was launched in 1975, when as students at the University of Wisconsin-Madison, CEO Fred Foster, his brother Bill and a few friends invented their own lighting control desk. Since then, ETC has integrated into its corporate philosophy the fostering of young talent who will themselves be leaders in the field one day.
The ETC LDI Student Sponsorship is one way ETC accomplishes that goal. The Sponsorship gives a group of deserving students an all-expense-paid trip to LDI, the largest stage-technology tradeshow in North America. The Sponsorship lets recipients go behind the scenes with ETC to see the latest technology, network with peers and industry luminaries and meet prospective employers. It is a unique opportunity to gain experience, make connections and launch a successful career.
ETC LDI Student Sponsorship Lighting the way toward a bright future!
How to apply
An application is available at www.etcconnect.com/LDISponsorship and takes about 15 minutes to complete.
You can fill it out electronically or print it out and mail it to ETC at
Electronic Theatre Controls, Inc.Attn: Pam Florac
3031 Pleasant View RdMiddleton, WI 53562
Who can apply?
Students pursuing degrees in lighting design, theater technology or a related field and will be graduate students or undergraduate seniors at the time of the show are encouraged to apply. From the pool of applicants, ETC selects five students from North America and one international student.
We look forward to hearing from you!
Americas Tel +1 608 831 4116Europe Tel +44 (0)20 8896 1000Asia Tel +852 2799 1220
www.etcconnect.com
---
GO TO ALL NEWS →
GO TO RECENT FORUM POSTINGS →
GO TO RESOURCE HUB →