What's New > ESTA News | May 2016
May 16, 2016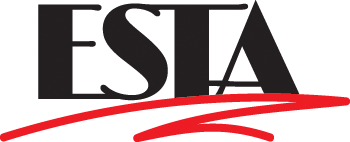 Sponsorships Available for ESTA's 3rd Behind the Scenes Happy Hour
| | |
| --- | --- |
| | The most popular pre-show party at LDI returns for the 3rd time as ESTA hosts the Behind the Scenes Happy Hour. On Thursday, October 20 from 6pm-8pm at the Westgate Las Vegas all of the industry's finest will nibble and network. You can get your name in front of them and benefit industry professionals in need. Sponsorship opportunities are available and information may be found online at www.esta.org or by emailing . Tickets will go on sale in the Summer.  |
Current returning sponsors for the 2016 Behind the Scenes Happy Hour include:
Altman Lighting
(Executive),
4Wall Entertainment
(Platinum),
IATSE
(Platinum),
Ultratec
, (Platinum),
Vectorworks, Inc
. (Gold),
Stage Equipment & Lighting
(Gold),
Barbizon Lighting
(Silver),
Columbus McKinnon
(Silver),
ENTTEC Americas
(Silver),
iWeiss Theatrical
(Silver),
Musson Theatrical
(Silver), Stan Pressner (Silver),
Sapsis Rigging Inc
(Silver) and
A.C. Lighting
(Lighting Sponsor). Official media sponsors:
Lighting&Sound America
and
Protocol
.
---
New Panelists Added for the Business Resource Group Panel at LDI
Hiring Independent Contractors vs. Employees: Understand the Difference or Pay the Consequences

 
Two more experts have signed on to participate in this informative panel. James Varga, West Coast Counsel IATSE, and Paul Kush, Chief Claims Officer for ProSight Specialty Insurance, will join Pete Heffernan, President of Bandit Lites, and Steve Adelman, of Adelman Law Group, at the table to discuss the issue of classifying non-permanent workers. The Department of Labor's latest regulations can be hard to navigate and the Internal Revenue Service is keeping a close watch on 1099s and W2s. Moderated by Paul Vincent, President of Vincent Lighting Systems, this panel will help you understand the labor complexities of getting a job done. Join us on Thursday, October 20 from 12:30 to 2:30 at the Westgate Resort and Casino. $60 ESTA members and $75 non-members. Registration will open in June.
---
ESTA Members' Choice Product Awards - Nominations Are Open!
Nominations are open for the ESTA Members' Choice Product Awards at LDI 2016! ESTA member exhibitors may nominate in any or all of the categories - Equipment, Gadget and Expendable but are limited to one product per category.  Nominations accepted by August 29 will appear in Protocol. The deadline for nominations is September 15. Click here for more information and to nominate a product.

 
---
Only one more month to register for a free floor pass to LDI 2016. Free registration closes June 15. Share this link, FREE, with clients and friends now.

 
---
ETCP PPDT Certification Launches Summer 2016
ETCP is extremely pleased to announce that the new Portable Power Distribution Technician (PPDT) certification will be available for testing by paper and pencil beginning July 15, 2016 and the initial window for testing will continue until August 12, 2016. The examinations will be administered in the following cities (dates TBD): New York, San Francisco, Dallas, Phoenix, Chicago and Orlando, with possibilities in other cities. If interested in testing in any of these locations, please contact Meredith Moseley-Bennett .

Once the paper and pencil initial testing window is complete, it will take approximately 4-6 weeks to determine the passing rate for the PPDT examination and, once that is complete, the examination will be available for computer-based testing at over 190 testing centers in North America.

 
---

Three ESTA Standards in Public Review
Three draft standards have been added to the ESTA public review page. People materially affected by the standards are invited to review them and to offer comments, if they chose, before the reviews end on June 27. The three draft standards are:
BSR E1.40, Recommendations for the Planning of Theatrical Dust Effects
ANSI E1.40-2011 is being revised to warn against deflagration--deflagration being the technical term for the wave of flame that burned hundreds of people at a water park in Taiwan last year. Other changes include a regrouping of types of dusts and changing MSDS references to SDS references.
BSR E1.41, Recommendations for the Measurement of Entertainment Luminaires Utilizing Solid State Light Sources 
ANSI E1.41-2012 is being revised to specify that the Fidelity Index (Rf) rating, as defined in IES TM-30-15, be used for reporting the production of white light of a reported CCT. The existing ANSI standard requires reporting the CQS score, but CQS has no hold in the lighting market. CRI is a flawed metric, not suitable for narrow-band emitters. 
BSR E1.55, Standard for Theatrical Makeup Mirror Lighting 
ANSI E1.55-2015 is being revised to add the Fidelity Index (Rf) rating per IES TM-30-15, for the same reasons that it's being added to E1.41. 
Information about joining a working group is available at http://tsp.esta.org/tsp/working_groups/index.html.
Documents in public review are posted at http://tsp.esta.org/tsp/documents/public_review_docs.php. There is an RSS feed on that page.
---

The Spring Edition of Protocol is Now in the Mail!
This issue includes:
Dr. Kevin Kloesel, Director, Oklahoma Climatological Survey and University Meteorologist, OU Office of Emergency Preparedness, shares a valuable tool with readers—"When Thunder Roars, Go Indoors: Lightning Safety Planning"
"Wireless DMX: Dos, Don'ts, and Gotchas" is a compilation from City Theatrical, LumenRadio, RC4 Wireless, and Wireless Solution.
"To Buy, or Not to Buy?" by Joel Ordesky provides an insider's perspective on evaluating capital purchases for rental inventory.
Guy Holt returns with Part Two of his "Ground-Fault Protection Strategies" and the use of small portable generators in motion picture and live event production.
In "ANSI E1.43: Performer Flying from the Ground Up," Stu Cox of ZFX details the newest ESTA TSP standard and why it's important to understand.
ProSight Insurance discusses safety documentation for live events.
The North American Theatre Engineering and Architecture Conference returns in July—learn why this valuable quadrennial event is a "must attend.
Once again, Mike Wood keeps readers in the know with "Mireds or Mireks?" in his educational Out of the Wood column.
The Shadow, Light, and Truth column by Richard Cadena explores sustainability in lighting in "It's Not Just the Economy, Stupid."
Protocol is available online at: http://estalink.us/protocolonline  and as a free app for your smartphone at http://estalink.us/protocolapp. We hope you enjoy your latest edition and, as always, send feedback and suggestions to  or call 503-291-5143. Let us know what you think!
---
InfoComm 2016 in Las Vegas
Free VIP pass for ESTA members
 

InfoComm 2016, June 4-10 at the Las Vegas Convention Center and Westgate Las Vegas Resort and Casino features a Lighting & Staging Pavilion, a free Live Events Forum on emerging issues and a wide variety of networking and educational events. "InfoComm welcomes ESTA members to participate in this vibrant event, and encourages its members to attend our receptions, classes and council meetings oriented towards the live events professional," said Betsy Jaffe, Senior Vice President of Member Services, InfoComm International.
InfoComm has offered a free VIP pass for our members to their show in June. Register for your pass at http://www.infocommshow.org/, use code: ESTA.
---
Long Reach Long Riders Radioactive Ride #13 and Glowing
The Long Reach Long Riders 13th annual charity ride takes off for the high desert on June 4. This year's ride is all about New Mexico (plus a little of Arizona, Southern Utah and just a dip into Texas). This is the land of Billy the Kid, Georgia O'Keeffe and J. Robert Oppenheimer. It is the state that ushered in the Atomic Age hence the Radioactive Ride. Support the riders as they ride to raise money and awareness for Behind the Scenes and Broadway Cares, Equity Fights AIDS.

 
Please visit www.behindthescenescharity.org/lrlr to make a donation and support Behind the Scenes. 
Once the ride starts visit lrlr.org often to read the tall tales as these intrepid adventurers explore the trails of the Wild, Wild West.
---
Connect with ESTA:
630 9th Avenue | Suite 630 | New York, NY 10036
Questions and Support: +1 (212) 244-1505
---
GO TO ALL NEWS →
GO TO RECENT FORUM POSTINGS →
GO TO RESOURCE HUB →