What's New > David Bond joins ARCOFAB
March 2, 2012
ARCOFAB is pleased to announce that David Bond has joined our team as our sales representative. David brings with him his international events industry experience and contact network which he has developed over the last 22 years in the business.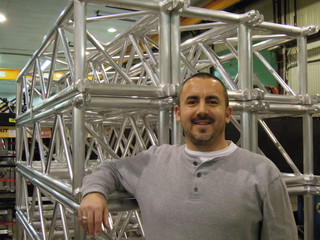 David started his career in the warehouses of Sound Specialist Inc. (Moncton NB) and Allstar Show Industries Ltd. (Calgary, AB) in addition to working as a freelance touring audio engineer. After various tours within Canada his experience base expanded to include international theatre tours, arena concerts, conventions, music festivals and exhibitions. Further North American and European tours brought about a deeper understanding of the worldwide events industry. His focus shifted from audio to event production and tour management. In 2002 David relocated to England and began working with world renowned music stars and recording artists. He provided the services of production manager, tour manager, audio engineer and promoter's representative for arena festivals and special events within UK and Europe.
David then found a new opportunity with a leading British staging, seating, structures and rigging provider in Star Events Group Ltd. Within a short timeframe he progressed from a project coordination role to Star Rigging Division Manager. Star Rigging's service was awarded the Total Production International Award 2010 for Favorite Rigging Company under his management. Their client base included world famous venues such as Wembley Arena, Cardiff Millennium Stadium, Manchester Arena and Arena and Convention Centre Liverpool, all of which David managed contract services for.
Arcofab products had appeared on various projects on David's desk while at Star Events including Celine Dion and Britney Spears tours as well as Cirque du Soleil Quidam shows. In addition to managing Star Rigging division, David held a position on the Star Events Group Health and Safety Committee, Sales team and the PLASA National Rigging Advisory Group. These experiences brought a new understanding of rigging, engineering, metal fabrication and the design of truss.
Upon returning to Canada in 2011, David sought to continue on the same path within the events industry. The synergy between Arcofab and David was instantly apparent and the understanding of their common goals was obvious.
Both Arcofab and David are very excited about their new partnership and it will expand Arcofab's impressive capability to provide world class truss and innovative mechanical and structural solutions for venues, spectacles and events.
David can be reached at 506 863-7469

www.arcofab.com
---
GO TO ALL NEWS →
GO TO RECENT FORUM POSTINGS →
GO TO RESOURCE HUB →