What's New > Be Scene - Be Heard
May 6, 2020
"Be Scene - Be Heard"
Anonymous Peer-to-Peer Chat App
The Behind the Scenes Mental Health and Suicide Prevention Initiative announces the launch of Be Scene – Be Heard, a 24/7/365 anonymous, peer-to-peer chat app for those who work behind the scenes.
It can be hard to talk with family and friends about how you're feeling, especially now when you want to be strong for others because that's what you do – you're used to taking care of things. Sometimes it's easier to talk to people who don't know you, but who can relate because they're in this industry too. Maybe you're doing pretty well but you'd be willing to help someone else just by listening and offering a few words of experience.
That's why Behind the Scenes has partnered with iRel8 to launch Be Scene – Be Heard. A platform to interact with your peers, talk about what's on your mind, find comfort and knowledge from one another, and, perhaps, offer insight to someone who is going through something you already have. Chats are instantly translatable into 54 languages. Be Scene – Be Heard is available Wherever you are, Whenever you need it, for Whatever is on your mind.
Signing up for the Be Scene – Be Heard App is easy!  All you need is a real email address to get started, regardless of whether or not it identifies you. At a cost of $0.99 a month – a less than $12 a year investment in your mental wellness, we hope this will be a useful tool to our community. Sign up today!
To start you will find a "room" for general conversation and one for industry resources. As participation grows, sub-groups will be formed for more focused discussion on topics such as, but not limited to: anxiety and depression, staying sober, women in the industry, bullying and harassment, etc. Participants will be able to create their own groups and conduct one-on-one chats within the app, giving you the ability to create and tailor your own safe spaces.
While Be Scene – Be Heard is a great way to find and lend peer to peer support, it is not a crisis hot line. If you or someone you care about is in danger of harming yourself or someone else you should call 9-1-1 or reach out to one of the 24/7/365 resources listed at btshelp.org/resources.
We hope you will join this new online community specifically for our industry to turn to, ask for, or provide assistance, insight, comfort, and support. Please join us today and Be Scene – Be Heard!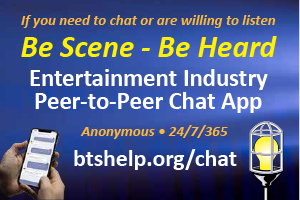 ---
GO TO ALL NEWS →
GO TO RECENT FORUM POSTINGS →
GO TO RESOURCE HUB →