Event Safety Alliance Canada - Inaugural Conference 2019
April 3, 2019, 8:30 AM - 5:00 PM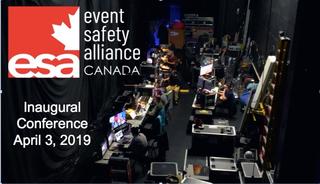 • They will provide high quality health and safety learning opportunities to Canadian arts, entertainment and live event communities.
• They strive to share expertise, solutions and reasonable practices based on Canadian needs and legislation.
• Their goal is to prevent injuries and incidents, and protect both people and events.
• By maintaining a strong relationship with the ESA, we will participate in the development of global resources to address industry challenges.
Join the learning!
In preparation for the busy 2019 summer event season, we invite you to attend the inaugural
Event Safety Alliance Canada Conference
on
Wednesday, April 3, 2019
in Toronto, ON.
This conference is designed to provide practical insights for production suppliers, event production companies, festivals and roadhouses, municipalities, colleges and universities, labour organizations, and all those who provide support to the live event industry.
You'll have a full slate of relevant topics presented by experts in the field, as well as an opportunity to share event safety experiences with colleagues. You'll learn directly from like-minded professionals from around the world – their experiences, expertise and perspectives.
Join them for a day of inspiring speakers and the opportunity to connect with fellow event professionals – from venue staff to suppliers – and all those who make the shows happen in this great country of ours.
Grab your seat at the Conference
HERE
.

Speakers and Sessions include:
• Weather Safety and Your Event - Is There An App For That? - Dr. Kevin Kloesel
• Electrify the Audience, Not the Performers - Richard Cadena
• I'll Sleep When I'm Dead - Mike Harnett
• Plus, Steven A. Adelman will be moderating a panel
More information and full agenda coming soon...

Conference registration
$199-269 (+ fee and HST)

Your registration includes:
• All sessions presented by expert speakers
• Free lunch, snacks and beverages
Early Bird: Register until February 15 - $199
Regular: Register from February 16 - March 15 - $229
Last Call: Register from March 16 - April 2 - $269
Location
Art Gallery of Ontario (http://ago.ca)
317 Dundas Street West,
Toronto, ON M5T 1G4