GerrAudio Demo Days
December 11, 2019, 9:00 AM - 4:30 PM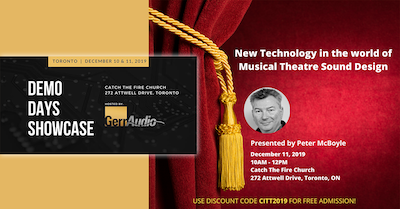 FREE TECHNOLOGY SHOWCASE featuring the latest products from DiGiCo, DPA, Meyer Sound, Clear-Com, KLANG, Rational Acoustics, WAVETOOL, Lyntec and Audio Precision. Lectrosonics will have a booth set up as well!

December 10 & 11, 2019 
9AM - 4:30PM daily

Catch The Fire Church - close to the airport (hwy. 27 & 409)

272 Attwell Drive, Toronto, ON


Stop by anytime - admission is FREE! 
All new products will be set up and ready for live demonstration at any point throughout the day. Light snacks and beverages will be served to all attendees throughout the day with a light lunch around noon.


Eventbrite: bit.ly/2XLkQXu
---
Also featuring on-site training and Audio TechTalk sessions. 

Sign up and reserve your spot today!
Enter Promo Code CITT2019 and get your FREE ACCESS to all sessions, including Peter McBoyle's talk: New Technology in the world of Musical Theatre Sound Design.
Eventbrite for this conference: bit.ly/2DmjRmY
Wednesday December 11, 2019
DIGICO SD-SERIES TRAINING
9AM - 11:30AM
2PM - 4:30PM
Presented by: Tim Shaxson, DiGiCo UK
DIGICO S-SERIES TRAINING
12PM - 1:30PM
Presented by: DiGiCo
NEW TECHNOLOGY IN THE WORLD OF MUSICAL THEATRE SOUND DESIGN
10AM - 12PM
Presented by: Peter McBoyle
UNDERSTANDING THE NEW WIRELESS MICROPHONE SPECTRUM - free!
12PM - 1PM
Presented by: Colin Bernard, Lectrosonics
FREESPEAK II WIRELESS INTERCOM - PRACTICAL SETUP & DEPLOYMENT
1PM - 2PM
Presented by: Geoff Maurice, GerrAudio Distribution
MASTER YOUR MIX WITH KLANG & DPA
2:30PM - 4:30PM
Presented by: Jason 'Redz' Reynolds
---
Contact GerrAudio at any time:
Phone: 613-342-6999
E-mail: sales@gerr.com