NAMM Show 2019
10:00 AM Jan 24 - 5:00 PM Jan 27, 2019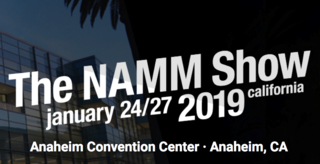 The Business Crossroads of Music, Sound and Event Technology 
The NAMM Show is the definitive platform for the music, sound and event technology communities to unite with the mission of strengthening the music products industry and promoting the pleasures and benefits of making music. Held in Southern California every January, The NAMM Show offers the latest products from more than 7,000 brands, cutting edge industry education sessions, as well as exclusive special events, concerts and experiences.
Benefits of Attending
Access to over 7,000+ brands
400+ educational sessions
150+ free networking events
Hundreds of concerts & performances
Free breakfast every morning at NAMM U
Exclusive rates at official NAMM show hotels
Discounts on flights and ground transportation
Deals at restaurants & attractions around Anaheim
Assistance for international travelers requiring a visa or ESTA
Year-round education & discounted business services                    
Who Should Attend?
Build business relationships that will last for many years to come as exhibitors, retailers, buyers and influencers from around the globe gather together to connect and grow.
Exhibits
With 7,000+ top music, sound and event technology brands present, there are plenty of exciting and innovative products to explore.
Education
Experience hundreds of free professional education sessions you won't find anywhere else. Explore topics on business development, marketing, websites, best practices, industry secrets and so much more.  
Events
Enjoy a variety of entertainment including prestigious awards, performances and networking events throughout the show.
For more information: www.namm.org/thenammshow/2019
CITT/ICTS members can register for only $25.00! More information at support@citt.org